5 injured, 10 missing after US destroyer USS John S McCain collides with oil tanker off Singapore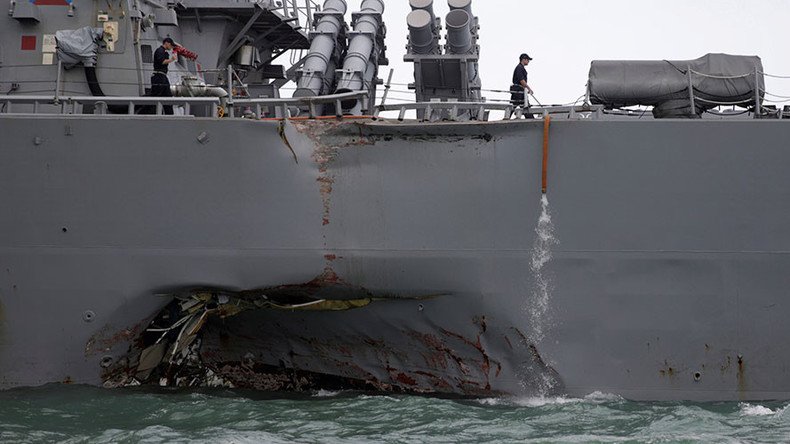 At least 5 sailors have been injured and 10 are missing after a US guided-missile destroyer USS John S. McCain "sustained damage" in collision with a merchant vessel while on a routine port visit to Singapore, the US Navy has said.
READ MORE: First images of damaged & flooded 'USS John S. McCain' after collision with oil tanker (VIDEO)
The vessel arrived at Changi Naval Base in Singapore with significant damage and several flooded compartments.
"Significant damage to the hull resulted in flooding to nearby compartments, including crew berthing, machinery, and communications rooms. Damage control efforts by the crew halted further flooding," the US Navy's 7th Fleet said in a statement.
The statement adds that four injured crewmembers were sent to a military hospital, with "non-life threatening injuries," while one more injured person "does not require further medical attention."
The US warship hit the Alnic MC vessel, which sustained "damage to her Fore Peak Tank 7m above the waterline, with no crew injuries," said the Maritime and Port Authority of Singapore.
"There is no report of oil pollution and traffic in the Singapore Strait is unaffected," the MPA added. The tanker was carrying some 12,000 tonnes of fuel oil from Taiwan to Singapore, a crew member told Reuters earlier on condition of anonymity, confirming there was no spill.
Although the US warship is sailing on its own power and heading to port, the Navy announced that a search-and-rescue mission was under way in coordination with local authorities.
Tug boats, coast guard and Singapore navy vessels and helicopters are all involved in the rescue efforts, in addition to MV-22s and SH-60s aircraft from the USS America.
Admiral John Michael Richardson, who currently serves as the 31st Chief of Naval Operations, said the Navy's top priority was "determining the safety of the ship and crew," promising to share more details of the incident when it becomes available.
On Monday, US Defense Secretary James Mattis announced that Richardson will be investigating 7th Fleet operations related to "incidents at sea."
Meanwhile, Senator John Sidney McCain III, after whose father and grandfather – both US admirals – the vessel was named, tweeted words of support to America's sailors.
The merchant vessel Alnic is 182 meters (600 feet) long and has a dead weight of 50,760 tons, the Washington Post reported. The ship has a 30,000+ ton oil/chemical tank and was built in 2007. The Alnic sails under the Liberian flag and is reportedly operated by Stealth Maritime Corporation S.A.
The USS McCain is a 505-foot-long Arleigh Burke-class destroyer based at the 7th Fleet's home port in Yokosuka, Japan, and was commissioned in 1994. Earlier this month, it sailed within a 12-mile range of Mischief Reef in the disputed Spratly islands chain in the South China Sea.
US President Donald Trump also referred to the warship as a show of force during the latest verbal exchange amid escalating tensions with North Korea.
The incident marks the second US warship collision with a trade vessel this summer. On 17 June 2017, seven American sailors were killed after the destroyer USS Fitzgerald collided with a Philippine-flagged container ship some 56 nautical miles southwest of Yokosuka, Japan.
In May this year, a guided-missile cruiser, the USS Lake Champlain crashed into a 60-foot South Korean fishing boat. No one was injured during the open sea incident.
Roughly a year ago, on August 19, a nuclear ballistic-missile submarine, the USS Louisiana, collided with a military sealift command support vessel, the USNS Eagleview off the coast of Washington State. No one was injured in the collision.
You can share this story on social media: