First images of damaged & flooded USS John S. McCain after collision with oil tanker (VIDEO)
Published time: 21 Aug, 2017 08:37
Edited time: 21 Aug, 2017 16:44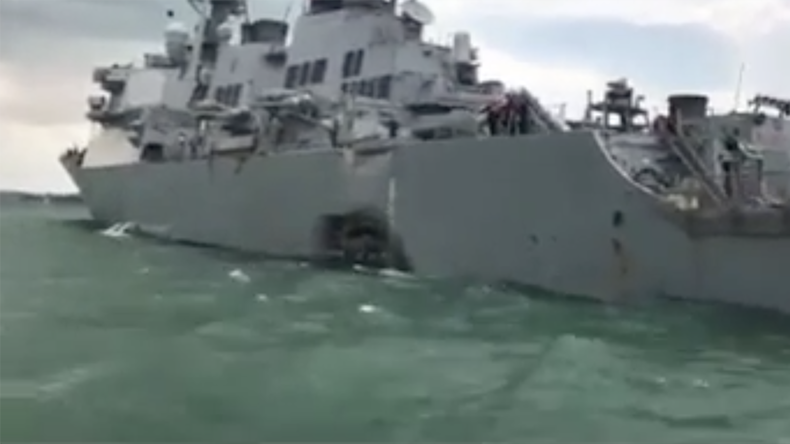 First footage showing a significantly damaged US guided-missile destroyer USS John S. McCain has emerged online. The warship collided with a merchant vessel near the coast of Singapore.
The video shows the 505ft-long USS John S. McCain heading to Singapore with a huge dent in its left-hand side, which it received in a collision with a 600ft oil and chemical tanker, the Alnic MC.
The US Navy confirmed that the warship sustained significant damage and that some compartments were flooded.
READ MORE: 5 injured, 10 missing after US destroyer USS John S McCain collides with oil tanker off Singapore
"Significant damage to the hull resulted in flooding to nearby compartments, including crew berthing, machinery, and communications rooms. Damage control efforts by the crew halted further flooding," the US Navy's 7th Fleet said in a statement on Monday.
Five crew members of the McCain were injured in the collision, four of whom were evacuated to a local hospital with "non-life threatening injuries" while one more sailor "does not require further medical attention," according to the US Navy.
Search and rescue efforts are ongoing for 10 missing sailors, with US Air Force MH-60S helicopters and MV-22 Ospreys assisting Singapore Navy vessels.
On Monday, US Defense Secretary James Mattis announced that the Chief of Naval Operations (CNO) will be investigating 7th Fleet operations related to "incidents at sea."
This is the second incident in just two months involving a US destroyer colliding with a merchant vessel. Seven sailors died when the USS Fitzgerald was struck by a container ship in June. Twelve crew members have been punished by the Navy, including the ship's commander and executive officer.
The Alnic MC, which sails under the flag of Liberia, is a 600ft oil and chemical tanker with a gross tonnage of 30,000. The vessel sustained "damage to her Fore Peak Tank 7m above the waterline." None of its crew members were injured.