Iowa becomes 47th US state to recognize Armenian Genocide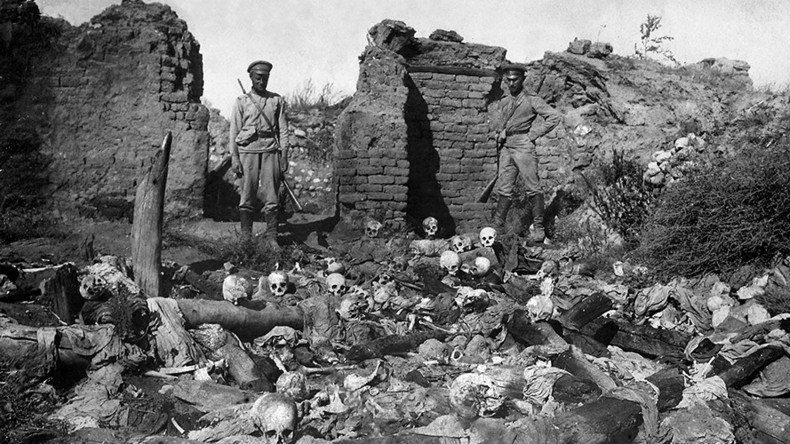 The governor of Iowa has issued a proclamation officially recognizing as genocide the killing of 1.5 million Armenians by Ottoman Turkey from 1915 to 1923. While 46 other US states have done so, the genocide remains unrecognized by the federal government.
"The planned complete eradication" of Armenians in 1915-23 by the Ottoman Turkish Empire during the first modern genocide "still requires justice," Iowa Governor Kim Reynolds (R) said in the proclamation, which declared October 2017 as "Armenia Awareness Month."
"By recognizing and consistently remembering the Armenian Genocide, the Holocaust and all cases of past and ongoing genocide, we help protect historic memory, ensure that similar atrocities do not occur again and remain vigilant against hatred, persecution and tyranny," the document reads, as it recounts subsequent genocides of the 20th and 21st centuries.
The document also references Adolf Hitler's statement prior to his invasion of Poland and the ensuing Holocaust: "Who, after all, speaks today of the annihilation of the Armenians?"
The move was welcomed by Armenians in the US.
"Iowa's commemoration and condemnation of the Armenian Genocide strikes a powerful blow against the hatred and intolerance which contribute to the ongoing vicious cycle of genocide plaguing society to this day," said Armen Sahakyan, of the Armenian National Committee of America.
Iowa is the 47th US state to officially classify and commemorate the 1915-23 annihilation of Ottoman Turkey's indigenous Armenian community as genocide.
In May, the Texas House of Representatives unanimously passed a resolution to that effect.
The US federal government has not officially made such recognition. American presidents have long declined to use the word "genocide" in relation to the killings, every year choosing other words to commemorate them.
Donald Trump followed the tradition. "Beginning in 1915, one and a half million Armenians were deported, massacred, or marched to their deaths in the final years of the Ottoman Empire," he said in a statement in April. "I join the Armenian community in America and around the world in mourning the loss of innocent lives and the suffering endured by so many."
Recognizing the Armenian genocide was one of former President Barack Obama's campaign promises, but when in office, he declined to do so.
I am very sorry that, during our time in office, we in the Obama administration did not recognize the #Armenian Genocide

— Samantha Power (@SamanthaJPower) April 24, 2017
"I am very sorry that, during our time in office, we in the Obama administration did not recognize the Armenian Genocide," former UN Ambassador Samantha Power said after leaving office.
Turkey, the successor of the Ottoman Empire, denies that a genocide occurred, saying those killings were casualties of war. The country is now a NATO ally and hosts the US military.
READ MORE: Thousands hold rallies across globe to commemorate Armenian genocide (VIDEOS)
A total of 28 nations have officially recognized the Armenian Genocide, including Russia, France, Canada and Germany.