Tillerson calls out Turkey, Bahrain, Saudi Arabia & Iran over religious freedom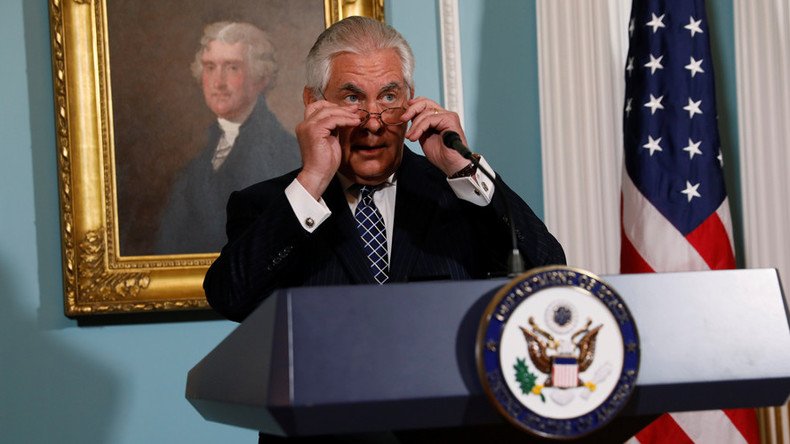 US Secretary of State Rex Tillerson has singled out several Muslim-majority countries for violating religious freedoms. He also called out Islamic State (IS, formerly ISIS) terrorists for their "genocide" of Yazidis, Christians and Shia Muslims.
Tillerson has accused friends and foes alike of violating their citizens' religious freedoms, particularly focusing on Muslim-majority countries in his presentation of the US State Department's annual report on religious freedom worldwide.
The US's top diplomat said Bahrain and Saudi Arabia "must" stop discriminating against their Shia community.
In Saudi Arabia, "the government does not recognize the right of non-Muslims to practice their religion in public, and applied criminal penalties, including prison sentences, lashings and fines for apostasy, atheism, blasphemy and insulting the state's interpretation of Islam," Tillerson said.
In Turkey, authorities continue to limit the human rights of members of some religious minority groups, he said.
Bahais, Christians, and others minorities are persecuted for their faith In Iran, Tillerson charged, adding that the Islamic Republic "sentences people to death on vague apostasy laws."
In addition to governments, the secretary of state also called out terrorist groups, particularly the Islamic State (formerly known as ISIS/ISIL), which he said was "clearly" responsible for genocide against Yazidis, Christians, and Shia Muslims in the parts of Syria and Iraq it controls.
Producing an annual report about the state of religious freedom around the world has been the State Department's obligation under a 1998 law. The report to Congress is part of America's push to "promote religious freedom as a moral imperative," the State Department said in a statement.
In May, Trump delivered a speech about religious tolerance during his visit to Saudi Arabia, his first foreign destination as president.
However, Muslim-American groups have accused the Trump administration of stoking hate and fear of Muslims inside the US. Organizations such as the Council on American-Islamic Relations (CAIR) have called Trump's restrictions on travel from six predominantly Muslim countries discriminatory and bigoted against Muslims.
During his election campaign, days after a terrorist attack in San Bernardino, California in December 2015, Trump called for "a total and complete shutdown of Muslims entering the United States until our country's representatives can figure out what the hell is going on."
In January, Trump signed an executive order banning refugees from all countries and severely restricting travel into the US from six predominantly Muslim nations: Syria, Iran, Libya, Somalia, Sudan and Yemen.
The administration cited a strong terrorist presence in most of the countries on the list. Both the original ban and the updated order issued in March were blocked by federal judges, but the US Supreme Court allowed a limited version of it to go into effect pending a hearing in October.
You can share this story on social media: