Thousands hold rallies across globe to commemorate Armenian genocide (VIDEOS)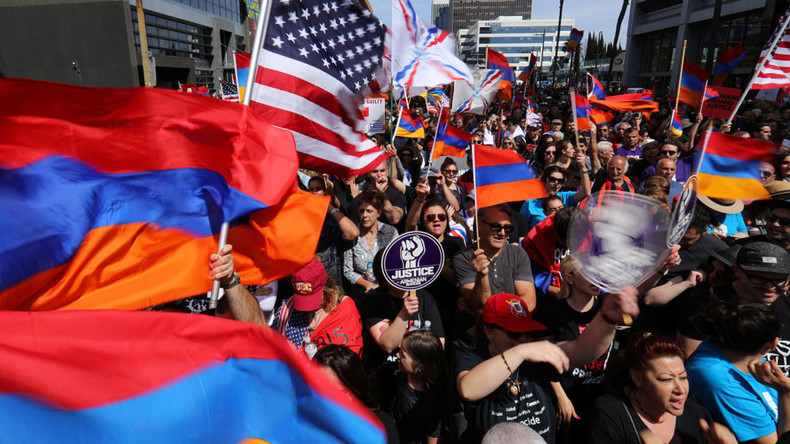 Thousands of people worldwide have held rallies on the 102nd anniversary of the Armenian genocide. New York, Paris and Buenos Aires were among major cities that saw crowds marching to honor the memory of one of the 20th century's worst atrocities.
The mass killings of the Armenians by the Ottoman Empire began in 1915, resulting in deaths of about 1.5 million men, women and children, and hundreds of thousands were forced to flee. April 24 is marked as the beginning of the genocide, as on this day 250 Armenian intellectuals were detained and later executed.
Every year, Armenian communities around the world come together to commemorate the victims of the massacre.
Armenia's capital, Yerevan, held a large ceremony on Monday, with President Serzh Sargsyan and other government officials laying flowers and wreaths at the Tsitsernakaberd Memorial Complex, dedicated to the Armenian genocide victims. The supreme head of the Armenian Apostolic Church, Karekin II, held a prayer.
A huge march was also held in Yerevan on Sunday, as thousands of citizens marched through the streets from the Freedom Square towards the Tsitsernakaberd Memorial.
Turkey denies allegations of genocide, instead acknowledging that there were "casualties on both sides."
In Paris, hundreds marched to pay their respect to the victims. France has one of the world's largest populations of the Armenian diaspora.
Protesters in Iran gathered around Tehran's St. Sarkis Cathedral, chanting slogans and demanding Ankara acknowledge the genocide.
Aleppo also took part in commemorating the events, with Syrians coming to al-Yarmouk Square to hold a rally.
Meanwhile, across the Atlantic, people took to the streets of Buenos Aires, which boasts one of the largest Armenian populations in Latin America. Demonstrators can be seen, carrying Armenian flags, torchlights and banners reading 'Peace and amity between the nations' or 'Never again'.
Protests were held in the US, home to hundreds of thousands of Armenian descendants. Los Angeles marked Remembrance Day, with thousands showing up for rallies.
New York, too, saw many coming to Times Square to honor the victims.
You can share this story on social media: