'False & offensive': VP Pence slams NYT report on alleged 2020 presidential ambitions
Published time: 7 Aug, 2017 11:12
Edited time: 7 Aug, 2017 11:17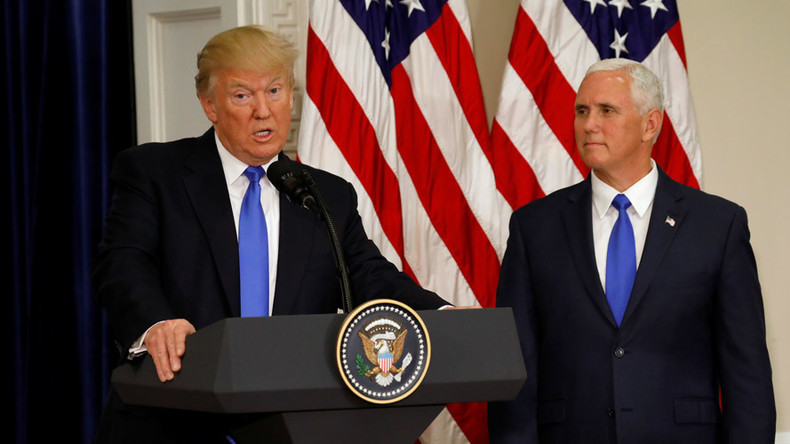 US Vice President Mike Pence slammed a New York Times report that claimed he might be preparing to replace Trump in the 2020 presidential race. Pence called the article "categorically false," promising not to let "fake news" divide the White House.
On Friday, the New York Times published a report claiming some fellow Republicans could be pondering 2020 presidential bids if the incumbent, President Donald Trump, decides not to run. The report listed several "shadow candidates," including the vice president, who allegedly indicated his ambitions by creating the 'Great America Committee' to raise funds, while "multiple advisers" reportedly "intimated to party donors that he would plan to run if Mr. Trump did not."
The article also listed a number of other Republicans who could be positioning themselves to run in 2020.
"The allegations in this article are categorically false and represent just the latest attempt by the media to divide this administration," Pence said in a statement published on Sunday.

While lauding Trump's success in fighting Islamic State (IS, formerly ISIS/ISISL), rebuilding the military, and creating jobs, Pence said that he "could not be more honored to be working side by side with a president who is making America great again."
He also pledged to make every effort to see Trump re-elected in 2020, despite "fake news" stories.
"Whatever fake news may come our way, my entire team will continue to focus all our efforts to advance the president's agenda and see him re-elected in 2020. Any suggestion otherwise is laughable and absurd."
New York Times spokesperson Danielle Rhoades Ha responded to Pence's statement, saying that they are "confident in the accuracy of our reporting and will let the story speak for itself."
Meanwhile, a White House official confirmed that Pence is preparing to take office in 2020, but not the one suggested in the report.

"It is absolutely true that the vice president is getting ready for 2020, for reelection as vice president," Trump counselor Kellyanne Conway told ABC on Saturday.
She also indicated that Trump plans to run for re-election in 2020.
"The president says privately and publicly often… that he'll be there for 7-1/2 more years. So he plans on being a two-term president."
READ MORE: Trump: WaPo fabricated facts on ending CIA train-and-equip program for Syrian rebels
Trump has repeatedly lashed out at the US mainstream media, including the New York Times, CNN and Washington Post, calling them "fake news." Pence has criticized the media for "ignoring facts" and spreading fake stories.

"While left-wing activists and their willing allies in the media, while they've been ignoring the facts and spreading that fake news, the American people know the truth," the vice president said during a rally in Harrisburg, Pennsylvania, in April as cited by the Hill.