Trump: WaPo fabricated facts on ending CIA train-and-equip program for Syrian rebels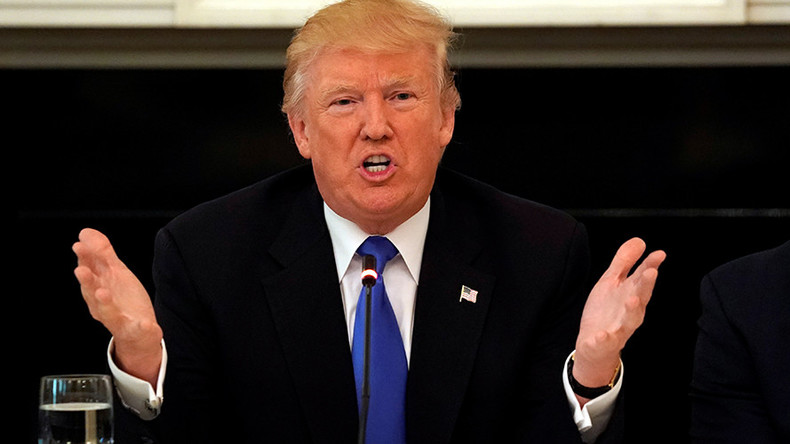 President Donald Trump has again hit back at the Washington Post, accusing the paper of "fabricating" facts about his alleged decision to cancel a CIA-funded program to train Syrian rebels fighting Bashar Assad's government.
The president fired off a series of angry tweets on Monday.
"The Amazon Washington Post fabricated the facts on my ending massive, dangerous, and wasteful payments to Syrian rebels fighting Assad.....," Trump wrote.
"So many stories about me in the Washington Post are Fake News. They are as bad as ratings challenged CNN. Lobbyist for Amazon and taxes?"
Trump's anger apparently related to a story the Post ran on July 19, where it reported, citing unnamed officials, that the alleged intention to stop arming "moderate" rebels in Syria signaled the president's "interest" to appease Russia.
The alleged decision was reportedly taken in consultation with CIA Director Mike Pompeo and National Security Advisor H.R. McMaster ahead of Trump's meeting with Russian President Vladimir Putin in Hamburg, Germany, earlier in July. During the Trump-Putin meeting on the sidelines of the G20 summit, both leaders reached a ceasefire agreement for southwest Syria.
In a subsequent tweet, the US president asked: "Is Fake News Washington Post being used as a lobbyist weapon against Congress to keep Politicians from looking into Amazon no-tax monopoly?"
Trump already expressed his unease over the Washington Post's editorial policy in several earlier tweets, mentioning the newspaper's ownership by Amazon CEO Jeff Bezos as a personal investment.
Last October in Gettysburg, Pennsylvania, Trump claimed that "Amazon, which through its ownership controls the Washington Post, should be paying massive taxes but it's not paying.
"It's a very unfair playing field and you see what that's doing to department stores all over the country," Trump said, as cited by Politico.
The secretive CIA program in question, dubbed Timber Sycamore in the US press, was authorized by Barack Obama in 2013 in a bid to give Syrian rebels leverage in defeating Syrian President Bashar Assad. Initially, it was reportedly limited to non-lethal aid and training; later leaks in the media indicated various weaponry was also supplied to groups considered moderate.
However, the program, which also had to adapt to take the terrorist threat from Islamic State (IS, formerly ISIS/ISIL) into consideration, did not appear to go as smoothly as expected. In 2015, General Lloyd Austin, CENTCOM commander at the time, told Congress that only four or five US-trained fighters had actually gone to Syria to battle IS, out of the 5,000 the Pentagon had envisaged.
Earlier that year, Ash Carter, the then-defense secretary, told the Senate Armed Services Committee that less than 1 percent of the 7,000 Syrian volunteers for the US-sponsored train-and-equip program had made it through the vetting process.
"As of July 3, [2015] we are currently training about 60 fighters," Carter acknowledged. "I can look out at your faces and you have the same reaction I do, which is that that's an awfully small number."