USAF Academy may use mental health counseling to cover up sexual assaults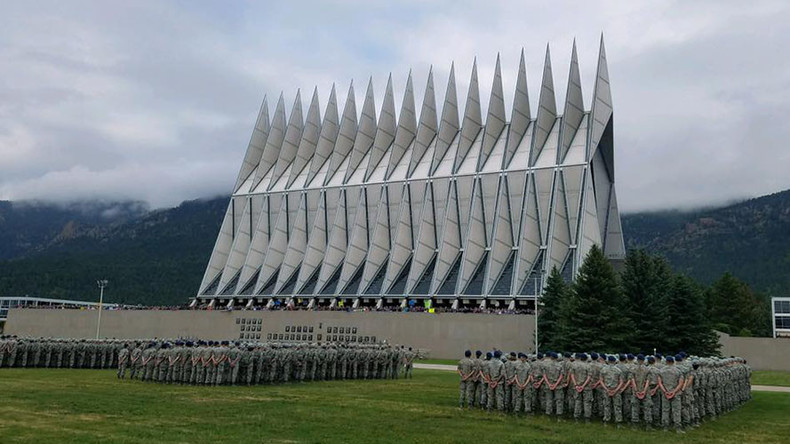 Survivors of sexual assault have accused the US Air Force Academy of using mental health diagnoses to cover up sex crimes and as a way to force cadets out of the military university.
Current and former cadets said once they are labeled with a serious mental illness, they can be expelled and even forced to reimburse the academy for their education, according to victims who spoke to the Colorado Springs Independent (CSIndy).
Among them was Kristen, an alias, who entered the academy in 2005. She was encouraged to visit an on-campus counseling office run by the school and that her record would remain confidential. Personnel kept pushing her to take psychotropic drugs. She eventually weaned herself off the drugs. During her junior year she was sexually assaulted in her dorm room at night.
She revisited the counselor but didn't reveal the assault, but she did report the incident to the academy's Sexual Assault Prevention and Response (SAPR) office.
"I did this because I've seen how victims of sexual assault are treated at the academy," Kristen told CSIndy, stating that victims were ostracized and looked down upon.
She struggled, and a year later opened up to a counselor, who then told her air officer commander she was suffering from Post Traumatic Stress Disorder (PTSD). This breach of confidentiality was kept from her.
As she was wrapping up with her counselor, Kristen was told that she would be sent to the Medical Evaluation Board, a process known as "med-boarding," and that she wouldn't be commissioned with her class.
During a med-board, she found the academy psychologist had labeled her with three disorders she had not been previously told of, along with her PTSD. The then-Commander Of Cadets, Brigadier General Samuel Cox, wrote that "she is not qualified to serve in any capacity in the Air Force," and couldn't maintain a security clearance.
Kristen fought back and was able to serve on several bases and obtain security clearance, but she is required to submit to annual mandatory mental evaluations.
She now advises other cadets who are sexually assaulted not to seek counseling.
"I think deep down they don't think sexual assault exists there," Teresa Beasley, a career SAPR coordinator for the military who began working at the Academy in 2007, told CSIndy.
"They think that women are making it up. They believe that still. That's where we were in 2003. We haven't made any progress, because they don't want to admit that that can happen there," she added.
Beasley complained for more than three years about the academy's treatment of sexual assault victims, and recently criticized the Defense Department for a new rule it imposed in the summer of 2015 which requires cadets to sign a form when reporting sexual assault.
Previously, cadets didn't have to sign the form which would be included in the Defense Sexual Assault Incident Database. The database collates all sex crimes reported at the three service academies and is sent to Congress annually.
The form requirement has led to dozens of cases to go unreported, leading to a drop in cases from 49 in the 2014-15 school year to 32 in 2015-16.
On June 30, the academy abruptly placed Beasley and three others in her office on indefinite leave.
The academy first began admitting female officer cadets in 1976, with the first class of graduating women in 1980.
A scandal at the Air Force Academy in 2003 involved allegations of sexual assault at the academy as well as allegations that the incidents had been ignored by the school's leadership. It began with an anonymous email on January 2, 2003 to the secretary of the Air Force, the chief of staff of the Air Force, several lawmakers and the press. The email asserted there was a significant sexual assault problem at the academy.
The secretary began a high-level working group to review cadet complaints and launched an investigation. A report issued in 2004 found that 12 percent of women who graduated from the Air Force Academy in 2003 said they were victims of rape or attempted rape while being there.
Of 659 women enrolled at the Academy at the time, 70 percent of the 579 women alleged they had been the victims of sexual harassment, of which 22 percent said they experience "pressure for sexual favors."
You can share this story on social media: