Women cadets secretly filmed in shower at West Point
Published time: 23 May, 2013 19:05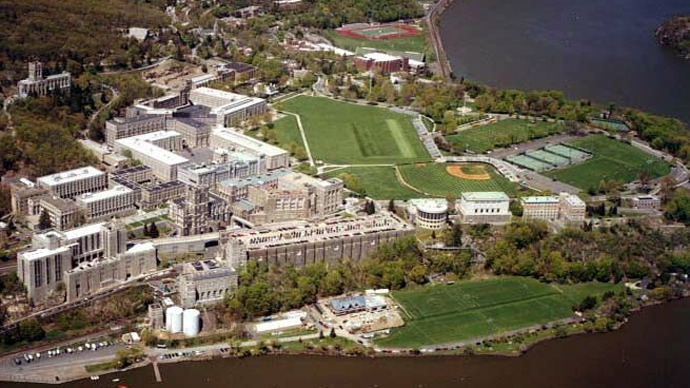 A US military sergeant first class has been accused of secretly photographing and filming at least 12 female cadets at West Point, in some instances while they were naked in the bathroom or shower.
The case serves as further embarrassment for the Pentagon at a time when the department is already under scrutiny for the large number of cases involving sexual harassment and assaults in the military.
Sgt. 1st Class Michael McClendon is facing numerous charges for allegedly gathering inappropriate photos and videos of women at the US Military Academy at West Point -- charges which were discovered by the New York Times but not officially announced by the US Army. The paper says it "learned of the inquiry from several current and former members of the West Point community who said they were alarmed by the allegations and wanted to learn of the academy's plans to investigate and prevent future violations."
The Army has contacted the female cadets whose privacy may have been violated and is offering them counseling.
McClendon has been accused of dereliction of duty, entering a women's bathroom without notice, mistreatment, and taking and possessing inappropriate photos and videos of naked women. His charges violate four articles of the Uniform Code of Military Justice, the Associated Press reports.
The sergeant first class has served in the Army since 1990 and was deployed to Iraq from 2004 to 2005 and 2007 to 2009. He was awarded a Bronze Star for his service.
Defense Secretary Chuck Hagel is slated to deliver West Point's commencement address on Saturday, and Pentagon officials told the New York Times that he is "concerned and disturbed" about the allegations against McClendon, which were filed on May 14.
McClendon has been stationed at West Point since 2009, but has now been transferred to Fort Drum, N.Y., where he is currently being assigned alternate but unspecified military duties. The sergeant was relieved of his duties at West Point in May 2012, but it took a year before the Army filed the charges against him, the Times reports.
The Army attributes the delay to the effort of recovering forensic evidence and complexities of the case. But this delay may also serve as further testimony of the military's lack of action in properly addressing the prevalence of sexual assault and harassment among its ranks.
Joint Chiefs of Staff Chairman Martin Dempsey recently said during a meeting with military officials that women and victims are quickly losing faith in the Army's ability to properly address the problem and prevent such incidents.
Numerous top military officials are this month facing allegations including assault, adultery, sexual assault, running a prostitution ring, and maltreatment of subordinates – including those in charge of sexual abuse prevention. Officials at the Pentagon and the Department of Veteran Affairs have also announced that sexual assault incidents have increased by 35 percent from 2010 to 2010 and that 85,000 US veterans received medical treatment for sex abuse trauma last year.
"It is time we take on the fight against sexual harassment as our primary mission," Gen. Ray Odierno, the Army chief of staff, wrote in a message to his service personnel last week. "It is up to every one of us, civilian and soldier, general officer to private, to solve this problem within our ranks."