Army commander suspended over sexual misconduct charges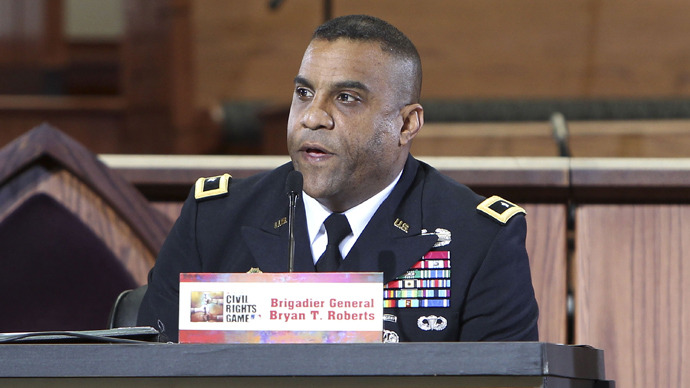 The Army's top general at Fort Jackson has been suspended over allegations of assault and adultery. The news strikes another blow against the US military, which has come under immense scrutiny for its frequent sex scandals involving senior officers.
Brig. Gen. Bryan Roberts is facing accusations of adultery and engaging in a physical altercation with a woman that is not his wife. The 29-year veteran was the top general at Fort Jackson, S.C., where he took command in April 2012. He previously served as head of a unit training Iraqi soldiers. Roberts has been suspended pending an investigation into the allegations against him.
The Army made the announcement of Roberts' suspension on Tuesday, but did not provide further details regarding the assault and adultery allegations.
"It was not clear whom Brig. Gen Bryan Roberts struck," USA TODAY reported, indicating that the general may have physically harmed the woman with whom he had an altercation.  NBC News reports that the altercation involved Roberts and the woman he allegedly cheated on his wife with, and that the two were involved in a violent argument. After making up, Roberts allegedly bit the woman's lip, which caused her to seek medical help, a US military official told the news agency.
Brig. Gen. Peggy Combs, Commandant of the US Army Chemical, Biological, Radiological and Nuclear School at Fort Leonard Wood, Missouri, will take over as interim commander while the investigation is ongoing.
The U.S. Army's Command and Staff page on Tuesday showed a vacant spot under the position of "Commanding General".
The suspension is the latest sex scandal involving a senior military officer. In recent months, the Pentagon has come under enormous pressure to address the number of military sexual assault allegations.
Earlier this month, Air Force Lt. Col. Jeffrey Krusinski, was arrested for drunkenly groping a woman. Krusinski was in charge of sexual abuse prevention, which made the case more disgraceful than most.
Sgt. 1st Class Gregory McQueen, the US military soldier responsible for overseeing sexual assault prevention at Ford Hood is also under investigation for sexual assault. The man is facing allegations including the maltreatment of subordinates and running a prostitution ring.
Meanwhile, Lt. Col. Darin Haas, the manager of Fort Campbell's sexual harassment prevention office, was fired from his post and arrested on charges of violating an order of protection, and stalking his ex-wife.
Although the details of Roberts' allegations remain unclear and it is not known whether the 'assault' was a sexual assault, his misconduct serves as further embarrassment to the Pentagon during a month filled with news of sex scandals and shocking statistics.
Pentagon officials recently announced that sexual assault incidents have increased by 35 percent from 2010 to 2012, bringing the annual total to 26,000 last year. The Department of Veteran Affairs also found that 85,000 US veterans received medical treatment for sex abuse trauma last year, which indicates that the effects of assault have far-reaching consequences, both financially and emotionally.
You can share this story on social media: