US Army general canned over alcohol, sexual misconduct charges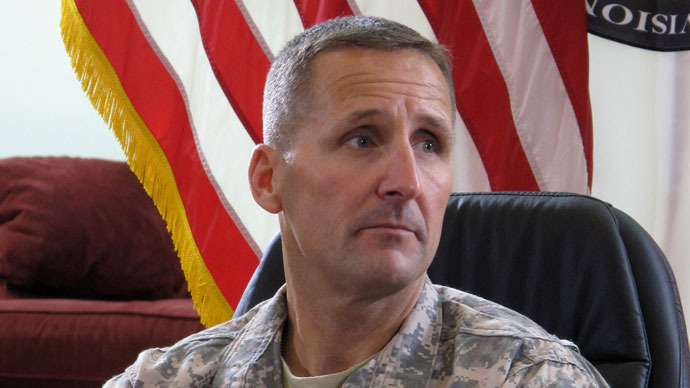 A US Army major general facing alcohol and sexual misconduct charges has been fired from his post at the US Africa Command, with officials citing the reason for his termination as "loss of confidence".
Army Maj. Gen. Ralph Baker, commander of the Combined Joint Task Force-Horn of Africa, was relieved of his duties on March 28. Military officials claim that the grounds for his termination are loss of confidence in his ability to command. But Baker is allegedly facing allegations of harassment and inappropriate conduct, which officials were not authorized to discuss publicly, the Associated Press reports.
Since his termination by Gen. Carter Ham, head of the US Africa Command, Baker has returned to Washington, DC, where he is temporarily serving as a special assistant to the vice chief of the Army. Such positions are often filled by general officers who are under investigation for a crime, as well as those who are waiting for their new job to open up.
The major general has appealed his termination to Defense Secretary Chuck Hagel, with the hope that he can get reinstated in Africa. Unnamed officials familiar with the case told AP that Baker has received a pay cut, which the defendant is also trying to appeal. Officials believe Hagel might have more of a say in the extent of the financial punishment, but is less likely to override the termination decision made by Gen. Ham, who is a senior commander.
Baker had been stationed as head of the task force, located at Camp Lemmonier in Djibouti, since last May.
Problems with officials at the US Africa Command have occurred before: Ham's predecessor, Army Gen. William "Kip" Ward, was demoted from four stars to three after investigators found he had been misusing government funds and "lavishly spending".
But cases of sexual assault are increasingly popping up in the military – a common problem that lawmakers have complained about. Last month, sexual assault victims who claimed they were harassed by military leaders testified in front of a Senate subcommittee hearing. One victim, Former Army Sgt. Rebekah Havrilla, said her rapist never faced charges – even though the perpetrator took pictures of her during the rape and posted them on a pornographic website.
"The military criminal justice system is broken," Havrilla told members of Congress.
Research by the Department of Veteran Affairs last year found that almost half of all US women deployed to Iraq or Afghanistan say they were sexually harassed, while nearly one-quarter claim they were sexually assaulted.
Baker is just the latest of a number of officers who have been reprimanded or are under investigation for possible sexual misconduct. Earlier this year, Air Force Lt. Gen. Craig Franklin reversed a sexual assault conviction against Lt. Col. James Wilkerson – a move that infuriated lawmakers and shed further light on the problem of sexual assaults in the military.
Hagel has recently ordered a review of Franklin's decision, but has not yet made any comments regarding Baker's termination and appeal.
You can share this story on social media: