Top US commander in Afghanistan, Gen. Allen, implicated in Petraeus scandal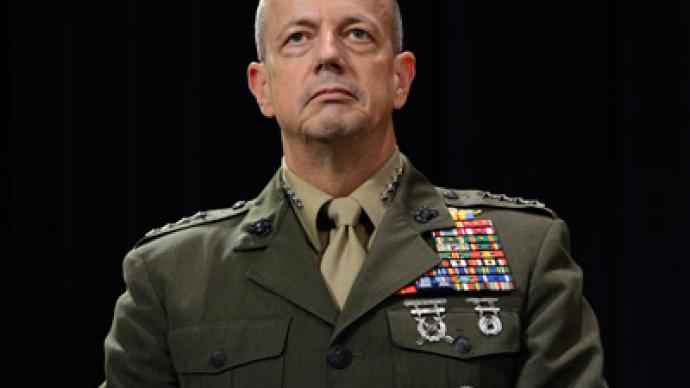 The US head of NATO forces in Afghanistan is under investigation in connection with the sex scandal that saw CIA director David Petraeus resign. Gen. Allen exchanged "inappropriate" emails with a woman linked to Petraeus.
The FBI has found 20,000 to 30,000 pages of potentially inappropriate emails and documents between General John Allen and Jill Kelley, says the Pentagon. Investigators are now searching through the documents for any compromising information.Mrs. Kelley was implicated in the Petraeus affair after telling the FBI she received threatening emails from the former CIA chief's mistress, Paula Broadwell. Jill Kelley is a long-term friend of the Petraeus family and works as a "social liaison" at an air force base in Tampa, Florida.US Defense Secretary Leon Panetta ordered an investigation be opened into the matter on Sunday. He also called for Allen's nomination to be made Commander of US European Command and Supreme Allied Commander Europe to be frozen for the time being. He was due to face a Senate hearing to assess his nomination on Thursday.General Allen has denied any wrongdoing and will remain at his post until further notice. Panetta praised Allen's work in Afghanistan and said that "he is entitled to due process in the matter."Meanwhile US President Barack Obama has given his support for the commander of US forces in Afghanistan. White House spokesman Jay Carney says the President "has faith in General Allen.""I can tell you the president thinks very highly of General Allen and of his service to his country, as well as the job he has done in Afghanistan," Carney told reporters on Tuesday.Panetta praised Allen's work in Afghanistan and said "he was entitled to due process in the matter.""While the matter is under investigation and before the facts are determined, General Allen will remain commander of ISAF," said Panetta in a statement.CIA director David Petraeus admitted he had been embroiled in an extramarital affair with the author of his biography, Paula Broadwell, and resigned on Friday.

The 40-year-old biographer met Petraeus six years ago at Harvard's Kennedy School. While the general was serving in Afghanistan, Broadwell visited him six times over the course of one year. He allegedly gave her preferential treatment over other journalists, which caused Petraeus' colleagues to question the access she was being given.The FBI initially suspected a security breach when threatening emails mentioning Petraeus' name sent by Broadwell to Jill Kelley were picked up in a probe.The US Code of Military Justice states that "adultery is clearly unacceptable conduct, and it reflects adversely on the service record of the military member," bringing discredit to the American armed forces. The punishment for such an offense depends on the rank of the individual involved. If Petraeus is found to have committed adultery while he was still in the military he could face a dishonorable discharge, forfeiture of pay and up to a year in prison.
Susan Lindauer, journalist and anti-war activist, believed to be a US intelligence insider, thinks that the FBI actually sought to oust Petraeus because of old inter-agency rivalry."The FBI has a long history of attacking the agencies trying to take over their operational authority and so they saw this as an easy attack on Petraeus who has been rebuilding the intelligence community which was gutted by George Bush," she told RT."Petraeus has been rebuilding the operational authority and taking things away from the FBI."Lindauer believes the reasons for ousting Petraeus are not related to national security as his mistress was an American devoted to the US military. "This is just sad for Mrs. Petraeus and it's embarrassing for the family, but it's a very private matter."Lindauer believes the whole story should have been abandoned. "I see this as a huge embarrassment for the FBI."
You can share this story on social media: