CIA Chief Petraeus resigns due to extramarital affair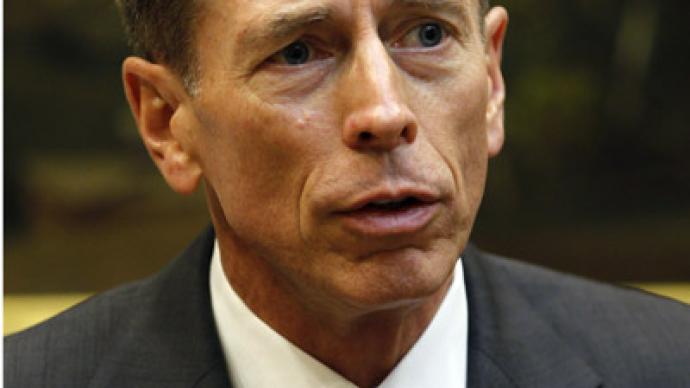 CIA Director David Petraeus resigned after admitting to an extramarital affair. The FBI initially suspected a security breach when threatening emails mentioning Petraeus sent by his mistress to an unidentified third party were revealed in a probe.
Petraeus, age 60, released a statement on Friday obtained by CNN confirming that his resignation has already been accepted by US President Barack Obama, who nominated him to replace General Stanley A. McChrystal as the commander of US Forces in Afghanistan in June 2010. A four-star general, Petraeus retired from the Army in August 2011 and was sworn in as new CIA chief one month later.According to the statement, Petraeus' stepping down is due to personal reasons, namely an affair he now admits to having outside of his relationship with his wife."After being married for over 37 years, I showed extremely poor judgment from engaging in an extramarital affair," writes Petraeus. "Such behavior is unacceptable, both as a husband and as the leader of an organization such as ours."  Officials have identified the woman as Paula Broadwell, a reserve Army officer who co-wrote Petraeus' biography. The two met in 2006, when Broadwell was a Harvard graduate student and Petraeus was a lieutenant colonel working on a counterinsurgency manual. He was at Harvard to deliver a speech, according to AP. The FBI launched an investigation into Broadwell several months ago, after receiving a complaint about "harassing" emails sent by Paula to an unidentified third person.When agents followed up on the complaint, they discovered exchanges between Petraeus and Broadwell that revealed they were having an affair."It didn't start with Petraeus, but in the course of the investigation they stumbled across him…we were stunned," a Congressional official said in a statement. But not everyone was stunned. Lt. Colonel Tony Shaffer says Petraeus' behavior is par for the course when it comes to Washington officials. "There's always been a problem in Washington. There's a saying – 'absolute power corrupts absolutely.' So I think some folks get to this level and start believing they're immune from any sort of oversight," Shaffer told RT.Petraeus says he informed President Obama of his decision on Thursday and writes, "This afternoon, the president graciously accepted my resignation." Multiple sources speaking to NBC News suggest that Mike Morrell, the deputy CIA director and a long time CIA officer, will be the likely replacement for Petraeus. Pres. Obama publically acknowledged the resignation mid-day Friday by releasing a statement to the media:"David Petraeus has provided extraordinary service to the United States for decades. By any measure, he was one of the outstanding General officers of his generation, helping our military adapt to new challenges, and leading our men and women in uniform through a remarkable period of service in Iraq and Afghanistan, where he helped our nation put those wars on a path to a responsible end. As Director of the Central Intelligence Agency, he has continued to serve with characteristic intellectual rigor, dedication, and patriotism. By any measure, through his lifetime of service David Petraeus has made our country safer and stronger.""Today, I accepted his resignation as Director of the Central Intelligence Agency. I am completely confident that the CIA will continue to thrive and carry out its essential mission, and I have the utmost confidence in Acting Director Michael Morell and the men and women of the CIA who work every day to keep our nation safe. Going forward, my thoughts and prayers are with Dave and Holly Petraeus, who has done so much to help military families through her own work. I wish them the very best at this difficult time."Director of National Intelligence James Clapper provided a statement to the Washington Post after the news broke confirming the resignation. "Dave's decision to step down represents the loss of one of our nation's most respected public servants. From his long, illustrious Army career to his leadership at the helm of CIA, Dave has redefined what it means to serve and sacrifice for one's country," wrote Clapper. "Under his leadership, the CIA remained instrumental in providing our policy makers decision advantage through the best possible intelligence. I'm particularly thankful for Dave's unwavering support and personal commitment to my efforts to lead the Intelligence Community and integrate our intelligence enterprise."But some say there's more than meets the eye when it comes to Petraeus' resignation. "Former senator Trent Lott once told me that one of the lessons of Washington is whatever they're talking about in Washington, the issue is something else entirely and I think that's what's here…I think there's something else deeper here…something that I don't think anybody fully understands yet," Shaffer said.
You can share this story on social media: