Pentagon releases terrifying statistics of sexual assaults in the military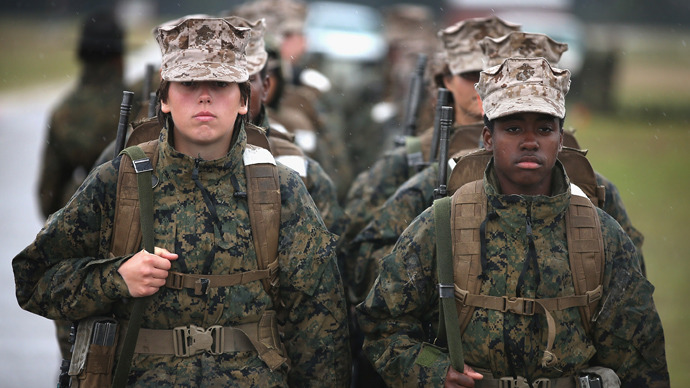 The Pentagon admitted this week upon the completion of a soon-to-be released Defense Department study that sexual assaults within the United States military are on the rise.
The full results of the survey will not be unveiled until later this week, but the Pentagon has already disclosed one particularly startling statistic: within the ranks of the military, the number of service members who say they've been sexually assaulted during the last year amounts to roughly 26,000.
By comparison, 19,300 service members answered similarly in a 2010 study, suggesting the number of attacks has increased by one- third in just two years' time.
"Sexual assault is a persistent problem and there is more work to be done," the Pentagon acknowledged in a statement obtained by USA Today.
Members of both Congress and the President Barack Obama White House responded already this week with outrage over the alarming trend. Lawmakers from the left and right have expressed their disappointment in the findings, and only hours after the results were published Pres. Obama spoke of the issue during a conversation with Defense Secretary Chuck Hagel.
"I've directly spoken to Secretary Hagel already today and indicated to him that we not only have to step up our game but exponentially go after it," Obama said during a Tuesday presser.
One day earlier, Hagel called Air Force Secretary Michael Donley to voice his dismay over another report that has ravaged the Pentagon's reputation as of late: over the weekend, Lt. Col. Jeff Krusinski of the Air Force's Sexual Assault Prevention and Response Office was arrested for allegedly groping a woman in a suburban Washington, DC parking lot. According to a spokesperson with the Pentagon, Hagel called Donley on Monday to "express outrage and disgust," and insisted the matter be dealt with "swiftly and decisively."
"The American people, including our service members, should expect a culture of absolutely no tolerance for this deplorable behavior that violates not only the law, but basic principles of respect, honor, and dignity in our society and its military," Pentagon Press Secretary George Little said Tuesday. "Secretary Hagel is firmly committed to upholding the highest standards of behavior in America's armed forces and will take action to see this through."
So far this week, though, Hagel has had to weigh in twice in regards to the Pentagon's snowballing sexual abuse problem. Following the release of the shocking numbers determined in this week's Defense Department study, Hagel issued a new statement to declare "Sexual assault is a crime that is incompatible with military service and has no place in this department."
"It is an affront to the American values we defend, and it is a stain on our honor," added Hagel. "DoD needs to be a national leader in combating sexual assault and we will establish an environment of dignity and respect, where sexual assault is not tolerated, condoned or ignored."
Commenting on the accusations that Lt. Col. Krusinski drunkenly groped a woman in Northern Virginia over the weekend, Senate Armed Services Committee Chairman Carl Levin (D-Mich.) said, "This arrest speaks volumes about the status and effectiveness of the Department of Defense's efforts to address the plague of sexual assaults in the military."
The Pentagon has determined that the rate of female victims victimized in sexual assaults went from roughly 1-in-26 to 1-in-16 between the 2010 study and the most recent report. The actual number of incidents could be far greater, though, as other studies have suggested that accurate data in terms of Defense Department rapes is hard to get a hold of. Although 26,000 service members say they were sexually assaulted in 2012, the Pentagon officially counted only 3,374 formal allegations.
You can share this story on social media: