Not just nude photos: Sexual assault on the rise at West Point, Annapolis military academies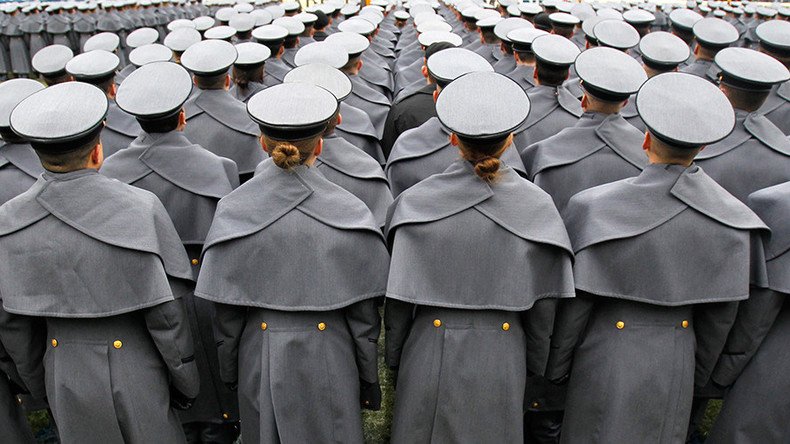 Official reports of sexual assault rose at two of the three US military academies, while an anonymous survey of students suggested that unwanted sexual contact is also on the rise, according to new Pentagon data.
During the last academic year, which ran from June 1, 2015 to May 31, 2016, there were 26 reported sexual assaults at the US Military Academy at West Point in New York, 28 at the US Naval Academy in Annapolis, Maryland, and 32 at the US Air Force Academy in Colorado Springs, Colorado.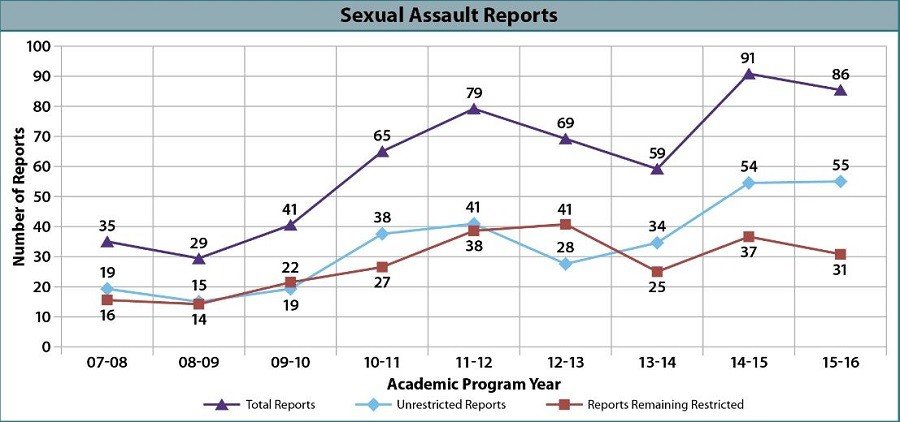 This represents an increase of nine more incidents than the previous year for West Point and three more at the Naval Academy, while the Air Force Academy saw a decrease of 17 complaints, according to an annual report on sexual harassment and violence at the service academies published Wednesday by the Pentagon's Sexual Assault Prevention and Response Office (SAPRO).
Overall, the last academic year represented a drop in five cases from the previous year's record high of 91.
A study published in September 2015, found that nearly one in four female undergraduates had experienced some type of sexual assault — meaning they were penetrated or touched in a sexual way without their consent — since enrolling in college. Overall, the number of reported sexual assaults on college campuses has risen.
It is not clear whether the rate at which sexual assaults occur has changed, but the number that has been reported has increased. Pentagon officials attributed the increase in reporting to students' growing confidence in the reporting system and expanded awareness programs, but could not say whether sexual misconduct is rising at the academies.
"I think it's appropriate for people to feel frustrated about hearing this in the news. Bottom line is that if this were an easy problem, we would have solved it years ago," Dr. Nate Galbreath, the acting director of SAPRO, told the Associated Press. "Unfortunately, this is a very hard problem to solve."
The SAPRO report also found that 12.2 percent of women and 1.7 percent of men — about 507 students in total — at the three academies said they experienced unwanted sexual contact during the last academic year, up from 8.2 percent and 1.1 percent respectively in 2014. That number is far higher than the 86 combined sexual assaults that were officially reported.
Academy women experienced unwanted sexual contact at a lower rate than their civilian counterparts at 27 colleges and universities, as 17 percent of female college students at those schools experienced non-consensual sexual contact in 2015. The same held true for males at the academies; 4.4 percent of civilian males reported unwanted sexual contact last year.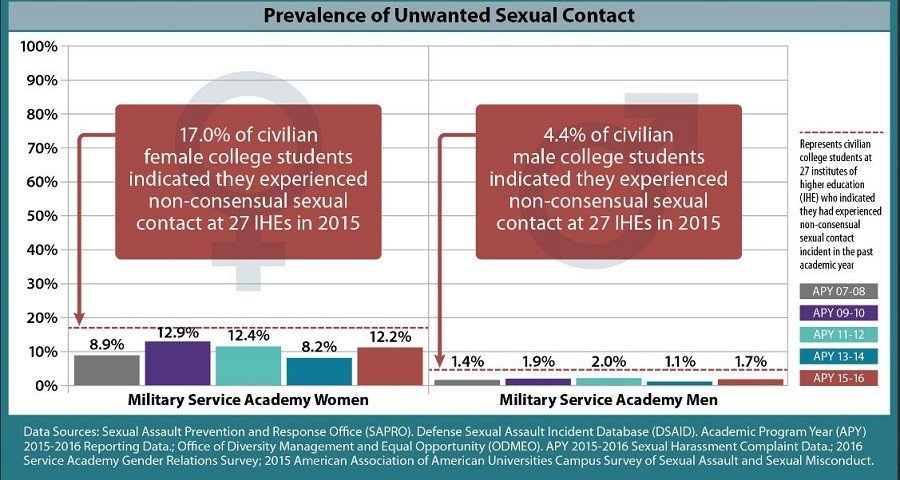 In the anonymous survey, about two-thirds of academy women said they didn't report the unwanted contact because they didn't think it was serious enough to report, 40 percent said they didn't want more people to know about the incident(s), about a third said they didn't want to be the subject of gossip, and half said they took care of the problem by avoiding the offender.
"We are encouraged by the Academies' continued ability to support those who make the difficult decision to report sexual assault," Galbreath said in a statement. "Building a helpful response system, however, isn't enough. Our leaders in training must understand that prevention is synonymous with military readiness."
"All three academies are investing in approaches that help them understand the role that a healthy culture plays in preventing this and other readiness impacting behaviors," he added.
The report speculated that the reasons for the increases in non-consensual sexual contact could include "high turnover rate of cadets and midshipmen, diversion of attention to other problem areas, message fatigue and the lack of available resources and personnel with the requisite prevention expertise."
The report coincides with the nude photo scandal rocking the Marine Corps over images of naked female personnel shared online that could ensnare other branches of the military as well. Many believe the scandal is just a larger issue of sexual assault and harassment in the military.
"Commanders have come before Congress countless times to ask for the public's trust and faith that they take this issue seriously and insist that they alone must be responsible for fixing it," Retired Colonel Don Christensen, president of Protect Our Defenders, said in a statement. "And yet, the numbers released today and the illicit photo sharing scandal that continues to unfold show that this trust is misplaced. The military has proven time and again that commanders cannot solve this crisis."
The Pentagon said the military, including the academies, must do better to prepare its future leaders.
"Cadets and midshipmen are our military's future leaders," Secretary of Defense Jim Mattis said. "Our readiness in combat tomorrow will depend in large part on their experiences today. We must foster an environment that rejects sexual assault and sexual harassment, notably during these formative years at our service academies."
In a letter to Congress introducing the report, A. M. Kurta, the acting undersecretary of defense for personnel and readiness, explained that the wide variety of prevention efforts limits the Pentagon's ability to identify which ones are having the greatest impact on lowering the rate of sexual assault at the academies. In the future, the report will include on-site assessments.
You can share this story on social media: