55 colleges under investigation for mishandling sexual assault
Published time: 1 May, 2014 23:23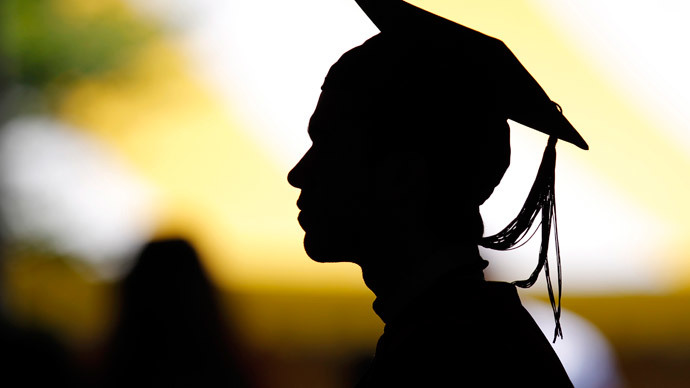 Fifty-five US colleges and universities are currently under investigation in connection with allegations that they mishandled or ignored sexual assault and sexual harassment complaints, the US Department of Education announced Thursday.
A variety of schools – small, large, private, and public – are named on the list. Ohio State University, the University of California Berkeley, and Arizona State University are all included, listed alongside prestigious institutions like Princeton University, Dartmouth College, and Harvard University Law School.
Women and advocates of sexual assault prevention have long criticized the Department of Education (DOE) for failing to adequately investigate what some have called an epidemic of sexual abuse on American campuses. Before Thursday's announcement the department would only confirm if a school was under review upon request.
The announcement comes days after the Obama administration issued recommendations on how to best curb the problem from a federal standpoint.
The DOE announcement made it clear that authorities are investigating whether the 55 schools have violated Title IX of a 1972 law which prohibits discrimination based on gender in all education programs and extracurricular activities that receive federal aid.
"We are making this list available in an effort to bring more transparency to our enforcement work and to foster better public awareness of civil rights," Assistant Secretary for Civil Rights Catherine E. Lhamon said in a statement to the Huffington Post. "We hope this increased transparency will spur community dialogue about this important issue. I also want to make it clear that a college or university's appearance on this list and being the subject of a Title IX investigation in no way indicates at this stage that the college or university is violating or has violated the law."
Student activists throughout the country have repeatedly failed to convince the DOE to offer such a list, with a group called Ed Act Now denied in their request to have a complete list of schools under investigation in December. The pressure increased in January of this year, with a bipartisan group of 39 congressional lawmakers co-signing a letter to the DOE to give the public more insight.
"It shouldn't be a guessing game if the Department of education has found a history of colleges and universities failing to respond to sexual violence," wrote Representative Jackie Speier (D-California). "American families have a right to know when that history is present, and institutions should be held accountable for commitments they make to the federal government to stem the violence on their campuses."
The Title IX protection has a variety of applications; it is the same law that prohibits schools from gender discrimination in sports. Now, victims of sexual assault are using the law to try to compel schools to provide adequate protection.
Little information is known about specific instances, although ESPN reported that the University of Michigan in Ann Arbor was accused of dropping the ball when investigating a student athlete. The school reportedly received complaints about Brendan Gibbons, a former kicker on Michigan's football team, although it was a full year before Gibbons was expelled.
University officials failed to explain the reasoning for the year-long lapse, according to ESPN, although spokesman Rick Fitzgerald said Michigan has been "fully cooperating" with the DOE probe.
The White House, citing previous research studies, has said that approximately one in five female university students are assaulted, not accounting for students who never report being attacked.
President Obama recently appointed a task force of Cabinet members charged with coming up with new ways for victims to report an assault without fear of retaliation. Recommendations included identifying confidential victims' advocates and employing better surveys to examine the circumstances where sexual assault could be more likely.
Activists say the biggest issue, though, is the DOE pulling the shroud away from what investigations were being conducted.
"It's a huge deal," Caroline Heldman – chair of Occidental College's politics department, who helped file complaints against the campus over its handling of sexual assault cases – told the Los Angeles Times. "It will inspire more survivor activists to file complaints when they see schools of every stripe in every part of the country have this problem."
If a school is deemed to have not complied with the law, the department could withhold federal funding, although it has yet to do so.