US Navy pulls 151 sailors from jobs following sexual assault review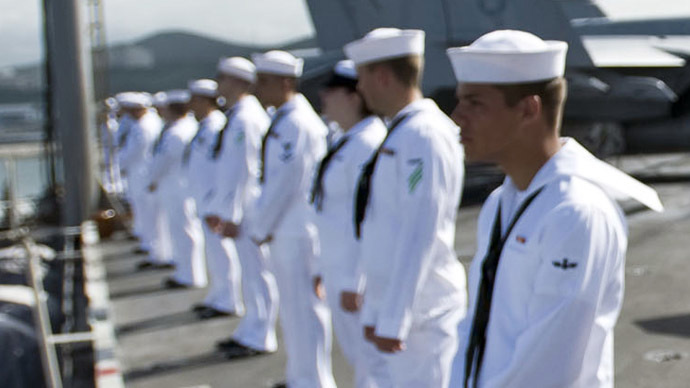 The US Navy has announced that 151 sailors have been prohibited from working as sexual assault counselors, among other sensitive positions, given their lack of proper training.
Upon a review of records for around 20,000 personnel working in positions related to sexual assault prevention or victim outreach, the Navy pulled 151 personnel mainly based on their inadequate training qualifications, said spokesman Lieutenant Commander Chris Servello, according to Reuters.
Servello said he was not aware of anyone disqualified for allegations of sex crimes.
"The most prevalent reason that we found was that either they didn't have documented training or they had not completed the requisite training required for whatever position they were in," said Navy spokesman Servello.
He said some of those pulled from their positions could be reinstated once appropriate training is completed.
The Navy's action comes weeks after a similar staff assessment done by the Army. That review pulled 588 service members from delicate positions after the Army combed through its recruiters, drill sergeants, instructors, victim advocates, and sexual assault response coordinators.
Of the 588, most were reassigned to other jobs, spokeswoman Lieutenant Colonel Alayne Conway said. Reuters reported that another 79 of them "are awaiting separation from the Army."
"The Army continues to ensure that those in positions of personal trust have the right tools, skills and background needed to carry out their duties effectively," Conway said.
Department of Defense Secretary Chuck Hagel ordered the reviews as the Pentagon is awash in sexual misconduct scandals, including some involving officers placed in important positions aimed at preventing sex crimes.
Last week, the Army's top prosecutor for sexual assault cases was suspended amid allegations he groped and tried to kiss a lawyer working for him, according to reports.
In addition, the trial of Army Brig. Gen. Jeffrey Sinclair began a week ago. Sinclair has been accused of sexual assault among other charges.
The military has seen a steady rise in sexual assault reports amid its ranks. There were 3,374 sexual assaults reported in fiscal year 2012, then over 5,000 in fiscal 2013.
Yet many crimes also go unreported. Last May, the Pentagon found that within the ranks of the military, the number of service members who say they've been sexually assaulted during the last year amounted to roughly 26,000.
You can share this story on social media: