​US general to plead guilty to lesser charges in sex crimes trial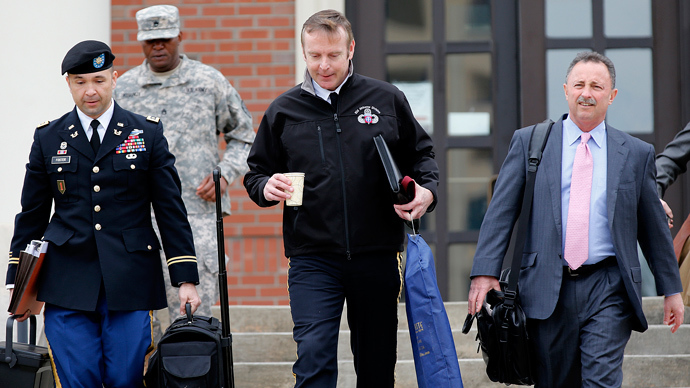 A US Army general accused of sexual assault will plead guilty to three lesser charges while maintaining innocence on the more serious charges related to claims of coerced oral sex, according to his lawyer.
Brig. Gen. Jeffrey A. Sinclair will enter his plea on Thursday ahead of opening statements for his court martial at Fort Bragg in North Carolina, AP reported. Sinclair's accuser, a female captain, said he forced her to perform oral sex and threatened to kill her family if she divulged their three-year affair.
Sinclair was originally charged with forcible sodomy and adultery related to his extramarital relationship and inappropriate conduct with several women. Sinclair's lawyer, Richard Scheff, said the general will plead guilty to improper relationships with two other female Army officers and to adultery with his mistress, which is a crime in the US military. Sinclair will also admit to possessing pornography in Afghanistan and conduct unbecoming of an officer.
Scheff said by Sinclair's pleading guilty to the lesser charges that come with the strongest evidence against the general, the trial will now focus on charges that rely on inconsistent testimony from his former mistress.
"The government now has a big problem," Scheff said in an email to AP. "It took pathetically weak assault charges and put a fancy wrapper around them. We just tore the wrapper off. The prosecution team no longer gets to distract us with salacious details about acts that aren't even criminal in the civilian world. All they're left with is a crime that never happened, a witness who committed perjury, and a pile of text messages and journal entries that disprove their claim."
The defense will present evidence that the accuser lied under oath during a January pretrial hearing regarding her handling of an old iPhone that contained messages between her and Sinclair. They will paint her as a jilted lover who only spoke up about assault allegations after the general said he would not leave his wife.
The captain told investigators that in early December, after a meeting with prosecutors, she rediscovered the iPhone stored away in her home that held old text messages and voicemails from Sinclair. She said that after recharging the phone, she synced it with her computer to save the photos before telling her attorney.
Yet a defense expert's analysis found that the captain powered the phone over two weeks before the meeting with prosecutors. She also tried to use the phone in the meantime, the expert found. Three other experts verified the conclusions.
Last month, the military's lead prosecutor abruptly resigned from the case citing "personal reasons." Shortly after, it was revealed that the attorney, Lt. Col. William Helixon, doubted the allegations being made by Sinclair's lead accuser, convinced that she had lied to him about the iPhone, and requested the most serious charges against Sinclair be dropped.
Helixon was overruled and replaced in the case by Lt. Col. Robert Stelle.
If convicted of the sexual assault charges, Sinclair, former deputy commander of the 82nd Airborne, would face life in prison.
You can share this story on social media: