One in three female students at University of Oregon are sexual assault victims ‒ survey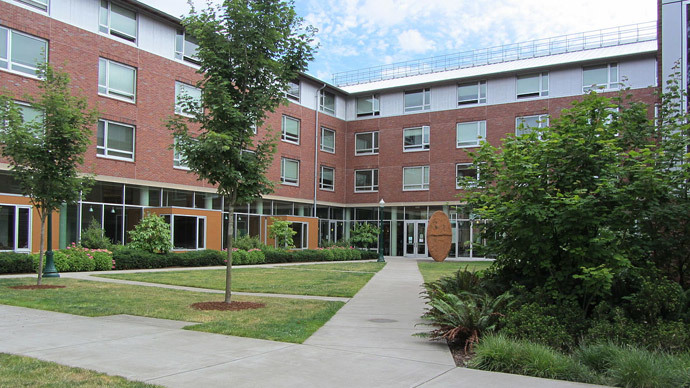 Over a third of female students at the University of Oregon reported being sexually assaulted, and 10 percent of the women surveyed had been raped, according to the preliminary results of a new study there. The majority of incidents were not reported.
The on-line survey on sexual violence affecting current students was conducted in late summer by Jennifer Freyd, a professor in the UO's Department of Psychology, and doctoral students Marina N. Rosenthal and Carly Parnitzke Smith. The study's findings were limited because students who left Oregon because of sexual assault or harassment were not able to be included in the sample, the researchers noted.
Freyd reported the survey's preliminary results to the university's sexual violence task force on Tuesday. The findings come after the school faced criticism over its handling of an alleged rape involving three basketball players that preceded the resignation of former university president Michael Gottfredson, according to Reuters.

Interim president and provost of the school Scott Coltrane called the results of the survey ‒ including that about 90 percent of sexual assaults and rapes were never reported to the university ‒ "terrible," adding that the findings "reflect the incidence rates that we're hearing from across the country, so that is not a surprise, but there are pieces there that are alarming."
"What we learned today is simply unacceptable and unconscionable," Prof. Robert Kyr, a task force member and University Senate president, told the Eugene Register-Guard.
More than half ‒ 57 percent ‒ of women experienced sexual harassment at least once during college, compared to 37 percent of men. Over a third ‒ 35 percent ‒ of female and 14 percent of male participants have had at least one sexual experience without their consent. One in ten of the female and 0.3 percent of male respondents had been raped. Of the students who had a nonconsensual sexual experience, 73 percent indicated knowing their perpetrators ‒ 87 percent of the whom were male.
The word rape is still an anathema to many students, Freyd said, according to Oregon Live.
"Most of [the respondents] wouldn't use the word," she said. "What they're telling us is that someone stuck something inside their vagina or anus without their consent."
"Researchers would say they've been raped. [Students] are reluctant to use the word. They don't want their identity to be that of the victim of a sex crime," Freyd added. "It's stigmatizing. And if you're the victim of a sex crime, a lot of people will respond negatively, saying you're at fault, shunning you."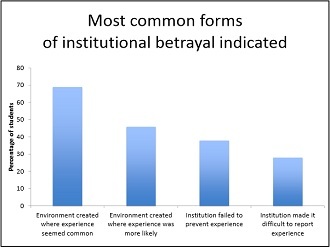 Of the 14 percent of respondents who told a university source about their experience, three-quarters told a non‐confidential university source. Over 40 percent of students experienced institutional betrayal related to their experience, many of whom ‒ 28 percent ‒ indicated that the institution made it difficult to report.
Freyd told Oregon Live that a lack of recognition of rape and sexual assault by students ‒ either as victim or perpetrator ‒ leads to extreme underreporting.
In May, the US Department of Education announced it was investigating 55 US colleges and universities in connection with allegations that they mishandled or ignored sexual assault and sexual harassment complaints. Authorities must determine if the schools violated Title IX of a 1972 law which prohibits discrimination based on gender in all education programs and extracurricular activities that receive federal aid.
The University of Oregon is not on that list.
"Sexual violence on college campuses is a national concern, and properly addressing this matter is one of our highest priorities," Coltrane wrote in a statement. "We anticipate that Professor Freyd's work will add to our understanding of the issue, and the UO will consider the findings from her survey in conjunction with climate assessment work that the UO plans to undertake as part of a national effort."
"Working together we can make progress identifying the most important aspects of the problem and collectively developing solutions," the statement concluded.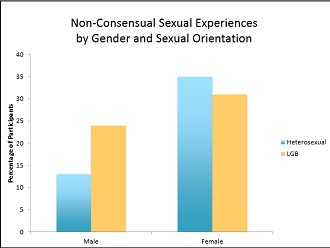 Freyd is part of a White House effort to develop a nationwide survey of college campuses, she told Reuters.
"If you've got a survey that lets you make meaningful comparisons between colleges, then colleges will have a meaningful incentive to reduce the violence that's being measured," Freyd said.
Beginning in August, the group emailed 5,000 random currently registered students, with 982 students answering the questions. They received $20 Amazon gift cards for completing the survey. Funding was provided by the university's Center for the Study of Women in Society and private donations, Oregon Live reported. The demographics of the respondents were 66 percent female, 74 percent white, 29 percent between the ages of 18 and 19, and 47 percent between the ages of 20 and 21. There are approximately 10,600 women and 9,400 men at the University of Oregon.
You can share this story on social media: