University of North Carolina suspends proceedings against rape victim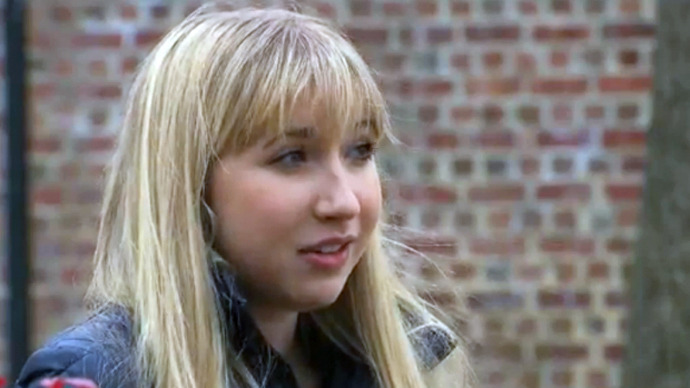 An American college student who faced expulsion for speaking out against her alleged rapist has filed a lawsuit against her school – which in response will drop their own proceedings against the victim.
Landen Gambill, a University of North Carolina sophomore, says the college sent her a threatening e-mail informing her that she had been charged with an Honor Code violation for "intimidating" her alleged rapist, who is also a student at the university. Facing possible expulsion, Gambill filed a lawsuit against UNC on Monday – the third complaint she has filed this year.

The complaint, which was filed with the Education Department's Office for Civil Rights, accuses the university or retaliating against her. The following day, UNC Chancellor Holden Thorp asked the Honor Court to drop its proceedings against Gambill.

"Recognizing the potential conflicts that may exist by allowing both processes to continue, we have asked the Student Attorney General to suspend the Honor Court proceeding pending an external review of these allegations of retaliation," Thorp wrote in a message to students, which he posted on the university's website. "The University takes all allegations of retaliation seriously, whether against an individual or an institution, and this allegation is no exception."

For weeks, the university has denied that it was retaliating against the young woman, but it wasn't until she filed the lawsuit that the school official took steps to drop proceedings against her. Thorp's request was made one day after attorney Clay Turner advised the school to do so.

The university administration's treatment of Gambill's case has come under nationwide scrutiny, with some Americans calling it a gross injustice. Naming the alleged perpetrator of a sex crime is against the school's code – but while Gambill has publicly spoken out against her attacker, she has never publicly mentioned his name.

"In speaking out for change at UNC, Ms. Gambill is not 'harassing' or 'intimidating' her abuser, whom she has never named," Turner wrote in the letter he sent to UNC. "Rather, the university's decision to press charges against Ms. Gambill has tragically provided her abuser with the opportunity to harass and intimidate her" despite a no-contact restriction issued against him after the alleged rape occurred last May.

Gambill claims she was raped and stalked by her ex-boyfriend – and that reporting it to the university last year only made things worse. She was required to attend an Honor Court trial in which she attempted to press charges against he attacker. She claims that the school questioned her choice in dating the young man and asked her why she didn't just simply break up with him.

"They were not only offensive and inappropriate, but they were so victim-blaming," she told the Daily Tar Feel in late 2012. In the end, the Honor Court never charged or punished the rapist, and instead charged Gambill for making him feel uncomfortable by speaking about the assault.

Over the past few weeks as details regarding Gambill's case continued to unfold, the school has come under scrutiny for potentially underreporting cases of sexual assault and inadequately addressing students' concerns. Federal investigators are due on campus next month to examine the school's response to campus crimes.

And in a likely attempt to ease the controversy surrounding the Honor Court's charges against Gambill, the university has suspended its proceedings in wake of the investigation and the student's third legal complaint.

You can share this story on social media: