Watch those dirty looks! France toughens sexual harassment laws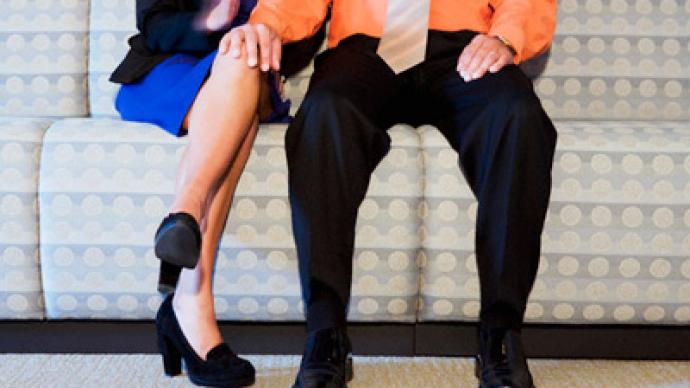 Lascivious language and wandering eyes could get you up to three years in jail in France, according to a new sexual harassment bill. The legislation has been praised by feminist groups as a milestone for women's rights.
The bill redefines older legislation pertaining to sexual harassment, which described offenses as "obtaining favors of a sexual nature." The legislation had previously come under fire for being too vague and not offering enough protection to women. The new law passed by the French Parliament on Tuesday has a far broader definition, defining harassment as "imposing on someone, in a repeated way, words or actions that have a sexual connotation and either affecting the person's dignity because of their degrading or humiliating nature or putting him or her in an intimidating, hostile or offensive situation." The law extends to the workplace and includes provisions for punishment for harassment of transsexuals.Violations of the new law could land offenders with a potential two-year jail sentence, and a fine of up to 30,000 euros ($37,000). More serious offenses, like sexually harassing a minor or a disabled person, are punishable with three years imprisonment and a fine of about $53,000.Under the old law, a sexual harassment conviction carried a jail sentence of one year and a fine of $18,500."Victims can once again seek justice and will be better armed since the terms of the crime are  better defined and covers a wider spectrum and the penalties are more proportionate to the seriousness of the offence," said Justice Minister Christine Taubira.French lawmakers annulled country's sexual harassment laws in May, leaving a number of cases unresolved and what France's women's rights minister Najat Vallaud-Belkacem branded "a dangerous void." Rallies were also held in Paris that month to protest the old legislation, with protesters arguing it was inadequate in protecting women's rights.Under the older laws, the French government estimated that some 1,000 cases of sexual harassment are registered every year, but only a small percentage resulted in a court sentence. Official estimates say that around 80 cases of sexual harassment ended in a sentence between 2005 and 2010.The new bill comes on the heels of July's high-profile case of housing minister Cecile Duflot. The minister was greeted with wolf-whistles and catcalls for wearing a blue-and-white dress as she addressed parliament on an urban development project in Paris.The hecklers claimed they were appreciating her dress, and their behavior did not constitute sexual harassment. Under the new legislation the hecklers could have been charged with sexual harassment.The incident sparked a media frenzy, drawing television coverage and dominating headlines for days.
You can share this story on social media: