Hol-la-lande! French cabinet shows who wears the pants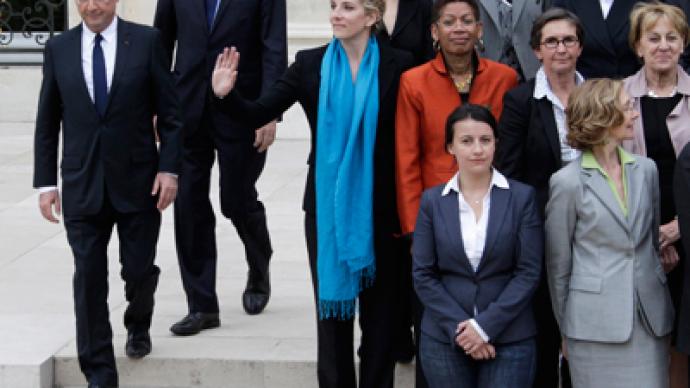 Stylish Mesdames and Mademoiselles filled the presidential Elysee Palace just days after the former first lady bade au revoir to her glittering years in the residence. The newly sworn-in president got together with his glamorous cabinet.
For the first time in French history half of all the ministry jobs – 17 out of 34 – went to women, pursuant to Hollande's campaign promise to respect gender-parity in his government. And though it was his predecessor Nicholas Sarkozy, who reportedly preferred favoring slim and fit people, the new government is also comprised of glamorous political beauties.
Seven appointments went to people under 40. Among them, Green Party leader Cécile Duflot, 37, was named Housing Minister and Aurelie Filipetti, 38, newly-appointed Culture Minister.
Two newcomers are just 34 years old: Najat Vallaud-Belkacem will be in charge of the newly-created Women's Rights Ministry, and Sylvia Pinel, now a junior minister in charge of Handicrafts, Tourism and Trade.
Film director Yamina Benguigui was named junior minister for Francophony and French Living Abroad.The presence of minorities, a trend that began under former conservative PM François Fillon, is said to remain the feature of the new government as well.
The cabinet includes seven people from French ethnic minorities, mostly of Caribbean and North African origins. It also counts Fleur Pellerin, a 38-year-old newcomer who was born in Korea and adopted by a French family when she was six months old.
And of course, the newly-elected president's companion Valerie Trierweiler also adds sparkle to French politics. Despite her new role as First Lady, the Paris Match political journalist has vowed to keep working for the weekly magazine.
You can share this story on social media: