CBO projects 32mn uninsured by 2026 under Senate GOP repeal of Obamacare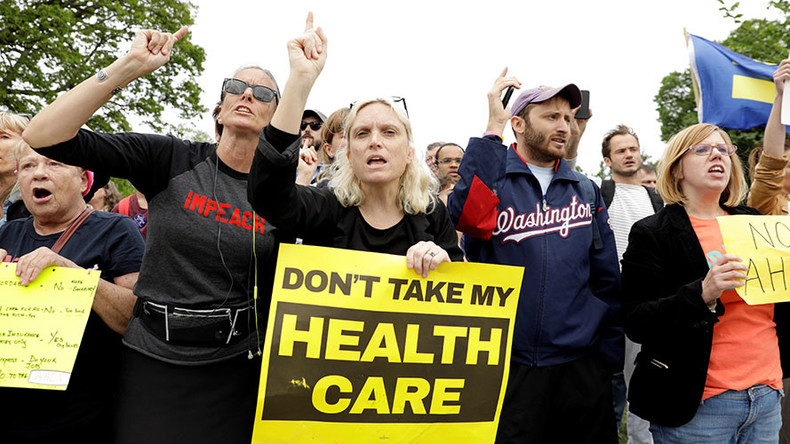 The nonpartisan Congressional Budget Office has weighed in on the new Senate GOP plan to repeal Obamacare, and its estimates are similar to what it found on a similar bill in January.
The CBO has published its report on a draft of the Obamacare Repeal Reconciliation Act.
"The number of people who are uninsured would increase by 17 million in 2018," the CBO reported Wednesday, "compared with the number under current law. That number would increase to 27 million in 2020, after the elimination of the ACA's expansion of eligibility for Medicaid and the elimination of subsidies for insurance purchased through the marketplaces established by the ACA, and then to 32 million in 2026."
Read more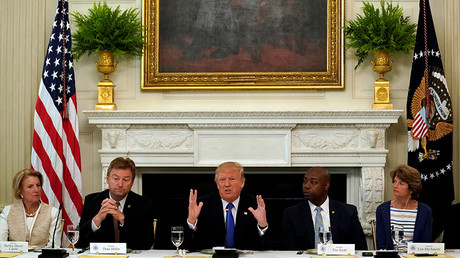 The CBO also found that individual policies purchased through the marketplaces or from insurers directly would see average premium increases of roughly 25 percent in 2018. Increases would then reach about 50 percent in 2020, "and premiums would about double by 2026," the report stated.
The US budget deficit would decrease by over $473 billion by 2026, the report said.
The latest bill to repeal major parts of Obamacare, formally known as the Affordable Care Act, wouldn't be implemented until two years after it becomes law.
While the Obamacare Repeal Reconciliation Act keeps Obamacare regulations on insurance companies, it would cut funding for one year to abortion providers such as Planned Parenthood. It would also get rid of the mandates on employers and individuals, roll back taxes and rescind the Medicaid expansion to low-income people.
READ MORE: Senate plans to separate Obamacare repeal bill from replacement
In January, the CBO reviewed a similar bill, the Restoring Americans' Healthcare Freedom Reconciliation Act of 2015, and found that 32 million people would be uninsured by 2026 as a result of repealing Obamacare's Medicaid eligibility expansion and subsidies for insurance purchases.
Activists and protesters descended upon the halls of the US Senate building on Wednesday in an effort to persuade GOP lawmakers not to repeal Obamacare. Many demonstrators were handcuffed with zip ties and escorted out by capitol police.