'Don't leave town': Trump tells GOP senators to pass healthcare bill
Published time: 19 Jul, 2017 20:29
Edited time: 20 Jul, 2017 07:58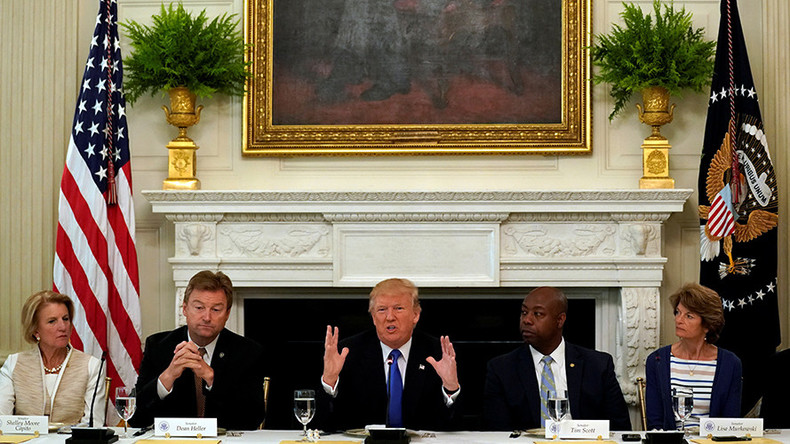 President Donald Trump told Republican senators they should not to leave for their August recess until they have repealed and replaced the Affordable Care Act, better known as Obamacare.
"We can repeal but we should repeal and replace, and we shouldn't leave town until this is complete, until this bill is on my desk, and until we can all go over to the Oval Office and I'll sign it, and we can all celebrate for the American people," Trump told Republican Senators Wednesday.
Pres. Trump to GOP senators: "We can repeal, but we should repeal and replace, and we shouldn't leave town until... this bill is on my desk" pic.twitter.com/hebv2X86pX

— Pamela Moore (@Pamela_Moore13) July 19, 2017
He told the GOP lawmakers that Republicans are "closer than people understand" on getting health care reform done and "have to pull through."
"We are in this room to deliver on our promise," Trump said.
During the lunch, Trump tossed a not-so-veiled threat at Senator Dean Heller (R-Nevada) who was holding out on voting for the Senate health care draft bill efforts. Seated between Heller and Senator Tim Scott (R-South Carolina), Trump joked about how he was among friends, even if some in the room bucked the party.
Heller said something inaudible to Trump and the two laughed. After the friendly exchange, Trump said, "Look, he wants to remain a senator, doesn't he?"
Heller looked visibly surprised by the comment.
Trump's call to repeal and immediately replace Obamacare puts him squarely at odds with the Senate leadership, who, after a series of stinging defeats, has moved on to repeal the health care law and replace it later.
It also contradicts with his own comments made over the last 72 hours in which he pushed to let Obamacare fail and to repeal it without a replacement plan.
Speaking with reporters after the meeting, Senate Majority Leader Mitch McConnell (R-Kentucky) dodged questions about whether the White House and Senate leadership were out of sync, saying that Republicans now have "two options" before them.
"There is a large majority in our conference that want to demonstrate to the American people that they intend to keep the commitment they made in four straight elections to repeal Obamacare," McConnell told reporters "I think we all agreed it is better to vote to repeal and replace.
"But we could have a vote on either and if we end up voting on repeal only, it will be fully amendable on the Senate floor and if it were to pass without any amendment at all, there is a two-year delay before it kicks in."
Trump's attempts to revive talks comes less than 48 hours after the same Republicans tanked his push to repeal and replace the Affordable Care Act with healthcare bill that has failed to garner enough support from 50 GOP senators who fear that any change in Obamacare will reduce coverage and raise premiums.
Sen. Ted Cruz (R-Texas) plans to unveil to senators at the White House meeting an analysis from the Department of Health and Human Services (HHS) showing his healthcare Consumer Freedom amendment would lower costs and raise individual enrollment, including those considered "high risk."
The Cruz amendment would allow insurers to sell plans that do not comply with Obamacare mandates. The amendment didn't appeal to moderate Republicans who are uneasy that it would leave those with pre-existing conditions without a plan, according to the Washington Examiner.
The insurance industry argued it would disrupt the market by creating two different regulatory regimes; while driving up the cost of insurance for sicker Americans and putting coverage out of reach.
According to the HHS, those likely to sign up for Obamacare-compliant Silver plans, presumably those who are considered high risk, would pay on average $380 per month in 2024, down from $845 per month projected under current law.
Consumers who purchase plans outside of the Obamacare mandates would save even more money by 2024 and would pay $240 per month on average. However, the HHS analysis is based on the assumption that non-Obamacare compliant plans would carry a $12,000 annual deductible.
The Congressional Budget Office, which said a previous version of the Senate healthcare bill would leave 22 million fewer Americans with insurance, has yet to release an analysis of the Cruz amendment.
Congress is set for its recess in mid-August, when members return to their home states for the remainder of the month. The Senate has already delayed their break by two weeks. Trump is also expected to spend a prolonged period away from the White House in August.