Plan C: Senate GOP turns to Obamacare repeal as revised healthcare bill draft falls apart again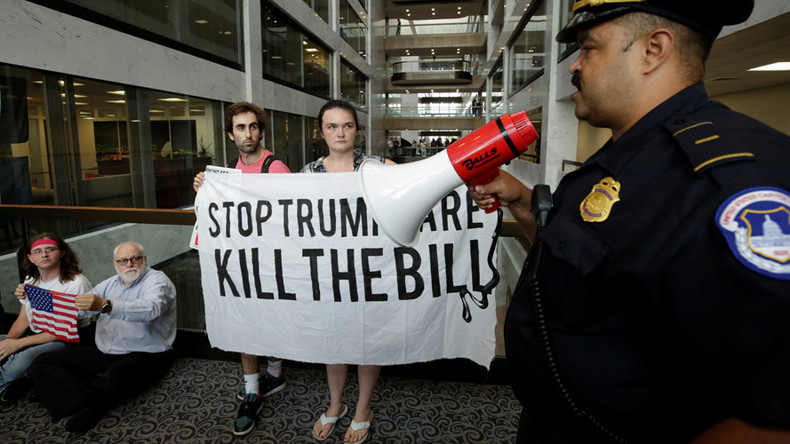 With the Republicans' flagship legislative goal of repeal-and-replace in tatters, they offered competing ideas for what to do next about the Affordable Care Act (ACA, better known as Obamacare).
"We will now try another way to bring the American people relief from Obamacare," Senate Majority Leader Mitch McConnell (R-Kentucky) said on the Senate floor on Tuesday. "In the coming days the Senate will take up and vote on a repeal of Obamacare combined with a stable two-year transition period as we work towards patient-centered healthcare."
The repeal-only bill was voted on previously in 2015, but vetoed by then-President Barack Obama.
At the time, the Congressional Budget Office (CBO) estimated that the repeal would lead to 18 million people losing their health insurance in the first year following enactment of the bill, with premiums increasing 20 to 25 percent.
Later, after the elimination of ACA's expansion of Medicaid eligibility and of subsidies for insurance purchased through ACA marketplaces, the number would increase to 27 million, and then to 32 million in 2026, with a doubling of premiums by 2026 as well.
The repeal-only bill, however, also lacks the votes to pass, as was the case at the beginning of the year.
Other Republican lawmakers, who want to reassure their constituents there would be a replacement at the same time to make sure people don't lose their healthcare coverage, have called for working with Democrats on passing an alternative GOP bill.
"There must be a replace with repeal," Senator Bill Cassidy (R-Louisiana) wrote in the Washington Post last week.
President Donald Trump, who has repeatedly said Obamacare will "explode," "implode" and "fail," called for a 51-vote majority in the Senate instead of the current 60 votes as a means for getting individual pieces of legislation passed without the threat of a filibuster.
"The Senate must go to a 51 vote majority instead of current 60 votes. Even parts of full Repeal need 60. 8 Dems control Senate. Crazy!" the president tweeted.
"We will return," he also declared in an early-morning tweet.
Last week new analysis of health insurers' financial data found that Affordable Care Act (ACA) markets are "stabilizing," and not imploding as Republican lawmakers have implied.
"Early results from 2017 suggest the individual market is stabilizing and insurers in this market are regaining profitability," the Kaiser Family Foundation said in a study published July 10. "Insurer financial results show no sign of a market collapse."
The study found in the first quarter of this year insurers paid out 75 percent of their premiums in claims. As a comparison, in the first quarter of 2015, 88 percent of premiums were paid out for claims.
Trump's healthcare bill suffered its latest blow on Monday evening, when two more Republicans, Sens. Mike Lee (R-Utah) and Jerry Moran (R-Kansas), announced they would vote "no."
At least four of the 52 GOP senators were ready to block the measure – two more than McConnell had to spare in the face of unanimous Democratic opposition.
House Speaker Paul Ryan (R-Wisconsin) told reporters the House of Representatives had passed its version of the healthcare bill, but reiterated GOP talking points that Obamacare is in the middle of a "tailspin," and the Senate must do something.
"We are hopeful that the Senate can take the pause that they need to take and move forward on this issue," said Ryan.