2 men charged over 'Ghost Ship' Oakland warehouse fire killing 36
Published time: 6 Jun, 2017 03:57
Edited time: 6 Jun, 2017 08:15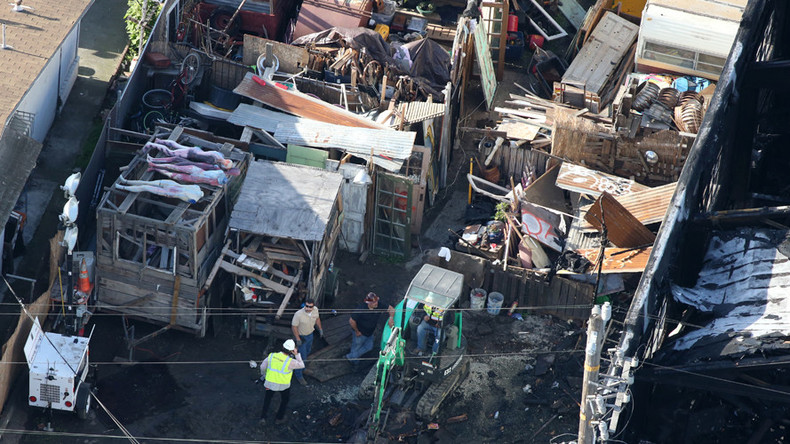 A fire which killed 36 people trapped inside an illegally converted warehouse has led to involuntary manslaughter charges against the building's leaseholder and "creative director." The Oakland property known as Ghost Ship had just one rickety exit.
The two arrests in connection with the December 2, 2016 Oakland warehouse fire were made in California on Monday, according to Alameda County District Attorney Nancy O'Malley.
Derick Ion Almena, who leased out the 10,000-square-foot warehouse and turned it into an unsanctioned residence for artists, was arrested Monday morning in Lake County, and his partner Max Harris, the venue's "creative director," was arrested Monday in Los Angeles County. The pair are facing 36 charges of involuntary manslaughter.
Harris, 27, was given his title after Almena, 47, allowed Harris, along with his girlfriend and three children, to live in the multi-story Ghost Ship, according to the probable cause affidavit filed Monday. This would be one of many violations of both Almena's lease agreement and municipal and fire codes, as the affidavit counted up to 25 people living in the building at the time of the blaze.
All 36 victims, aged 17 to 61, died from smoke inhalation, according to the coroner's office.
Harris' family was not at the shabby building the night of the fire, but Harris was there to supervise, as he had rented out the third floor for a music concert, the Los Angeles Times reported. Harris allegedly blocked a stairway exit, leaving only one stairway exit, a path that itself was purportedly not up to code.
READ MORE: Oakland city council pays nearly $1mn to 19yo woman over police sex assault scandal
The Ghost Ship's first floor was filled "floor to ceiling" with flammable "non-conventional building materials," such as "recycled dry wood, fence boards, shingles, window frames, wooden sculptures, tapestries, pianos, organs, wooden furniture, RV trailers, rugs, and other ramshackle pieces," according to the affidavit.
More than seven months after the tragic night, investigators had concluded the execution of 12 search warrants, conducted 75 interviews, archived over 300 items of evidence and reviewed 6,000 documents, District Attorney O'Malley said in the press release.
The cause of the inferno is expected to remain undetermined, Assistant District Attorney Teresa Drenick told the LA Times, citing the lack of evidence in the wake of the fire.
In the Bay Area, even a place like Ghost Ship can attract tenants willing to pay $350 to $1,400 per month to live and work there, according to the affidavit. Makeshift rooms had been rented there since 2014. The LA Times reported that Almena advertised the warehouse on Craigslist as a "hybrid museum, sunken pirate ship, shingled funhouse, and guerrilla gallery."
Oakland officials and the fire department have denied any knowledge of the danger of the building, but public records show many calls were made to the local government about the hazards the structure posed.