US, Japan in joint show of force amid simmering row with N. Korea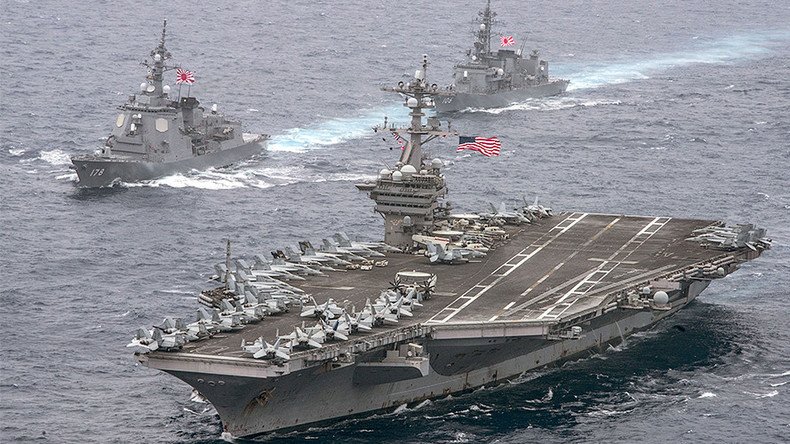 Japanese fighter jets have joined aircraft from the 'USS Carl Vinson' for joint drills in waters off Okinawa. It comes as the American carrier strike group heads towards the Korean Peninsula amid heightened tensions between Washington and Pyongyang.
Two US Navy F/A-18 aircraft dispatched with the US vessel were joined by two Japanese Air Self-Defense Force (ASDF) F-15s based in Naha, Okinawa Prefecture, according to an ASDF statement cited by the Japan Times.
READ MORE: 10-minute warning: Japan instructs citizens on potential North Korea strike
The 'USS Carl Vinson' and several other US Navy ships – along with two Japanese maritime ASDF destroyers, 'Samidare' and 'Ashigara' – also took part in the Thursday drills.
Although the ASDF often holds joint exercises with the US Air Force, one involving an aircraft carrier is rare.
The exercise "further strengthens the deterrence power of the Japan-US alliance, shows our country's commitment to the region's stability and demonstrates its advanced capabilities," Defense Minister Tomomi Inada told a news conference.
The US Navy's 7th Fleet said in an earlier statement that the drills would be focused on "combined air training and information sharing to increase interoperability and communication among joint services."
The exercise, which was originally scheduled for Wednesday but canceled due to poor weather, was held after a two-day bilateral maritime drill with the US carrier strike group and ships from the Japan Maritime Self-Defense Force (MSDF) as they passed through the Philippine Sea on Sunday and Monday.
"Both exercises demonstrate the flexibility of US naval forces and Japan Self-Defense forces to work together in a maritime environment in order to quickly respond to threats in the region," the US 7th Fleet said.
President Donald Trump deployed the 'Carl Vinson' to the region as part of his hardline stance against North Korea, which he has referred to as a "menace," referencing the country's nuclear and ballistic missile programs.
Although Trump says he wants the situation to be solved diplomatically, the US president told Reuters on Thursday that "there is a chance that we could end up having a major, major conflict with North Korea."
The joint drills come just two days after the US teamed up with South Korea's military for a combined firing drill. That exercise followed a drill launched by North Korea, which Pyongyang referred to as the largest ever to be hosted by the country.
Meanwhile, North Korea has warned that US military drills and provocations risk destabilizing the Korean Peninsula, possibly plunging the region into a nuclear war.
You can share this story on social media: