10-minute warning: Japan instructs citizens on potential North Korea strike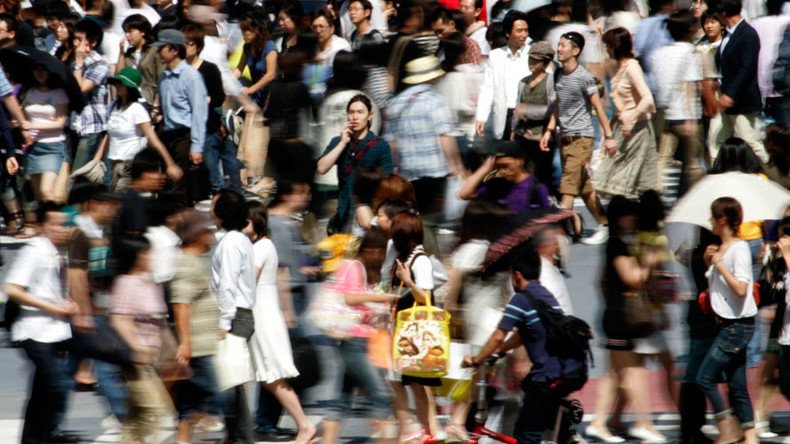 It would take 10 minutes for a North Korean missile to hit Japan, Tokyo estimates, as tensions between the countries grow.
Guidelines on what to do if a strike actually happens have been published online and have recently seen a huge surge in interest.
A Japanese civil security website - the Cabinet Secretariat Civil Protection Portal Site - says that a North Korean missile would reach the country "in a very short time," adding that a missile could cover a distance of 1,600km and reach Japan in 10 minutes.
The number of people searching for guidance on the Civil Protection Portal Site has risen almost sixfold since March, with 2.6 million visiting the website in April compared with some 450,000 in February, the Japan Times reports.
People would actually have much less than 10 minutes to find safety, according to Osaka Mayor Hirofumi Yoshimura.
"A missile may not be detected as soon as it leaves the launch pad . . . and that could take several minutes," the Japan Times cites the official as saying. "Depending on the case, the warnings and alarms might only sound four or five minutes before a missile arrives."
The Osaka mayor's statement came after the government called on prefectural disaster and crisis officials "to make additional efforts to warn residents and establish their own plans" during a meeting in Tokyo.
In the event of a strike, the government recommends that citizens calmly go to the "strongest concrete building" nearby, stay "low to the floor," or get under a table.
In Osaka guidelines issued separately, schoolchildren are advised to "get under their desks" and not to leave their classrooms, should a strike come during a school day.
Japan has a special service, J-Alert, to convey all urgent messages to citizens. If there were to be a potential strike, the system would send a warning to local authorities via satellite, telephone and cyberspace. Citizens would then hear the warning message through loudspeakers, an emergency broadcast on TV and radio, or cell phone alerts.
In a bid to facilitate possible evacuations, prefectures are seeking to make legal changes, such as introducing new laws on mandatory evacuation and a nationwide system of drills.
Last month, Japan held its first-ever civilian exercise in the prefecture of Akita, simulating the evacuation of more than 100 people in the event of an attack.
READ MORE: First civilian evacuation drills in Japan amid N. Korea missile tests
In addition to civilian efforts, last week two Japanese warships joined the carrier strike group led by the 'USS Carl Vinson,' heading towards the Korean Peninsula to deter North Korea's nuclear weapons program and possible missile tests.
On Sunday, Pyongyang threatened to sink the "armada," which was sent by US President Donald Trump and is believed to reach its destination "within days."
North Korea has been consistently criticized for its ballistic missiles tests, with a successful test conducted on March 5, followed by a failed launch on April 15 – and there are fears of more to come.
READ MORE: Japanese destroyers join US strike group amid tensions on Korean Peninsula
A potential conflict and possible preemptive or retaliatory strikes by the US in the region have raised concerns in many countries, including China and Russia, which have warned of the grave consequences of any provocation.
You can share this story on social media: