Flight risks: Bills want to bar forcible removal from airplanes
Published time: 18 Apr, 2017 19:56
Edited time: 19 Apr, 2017 07:05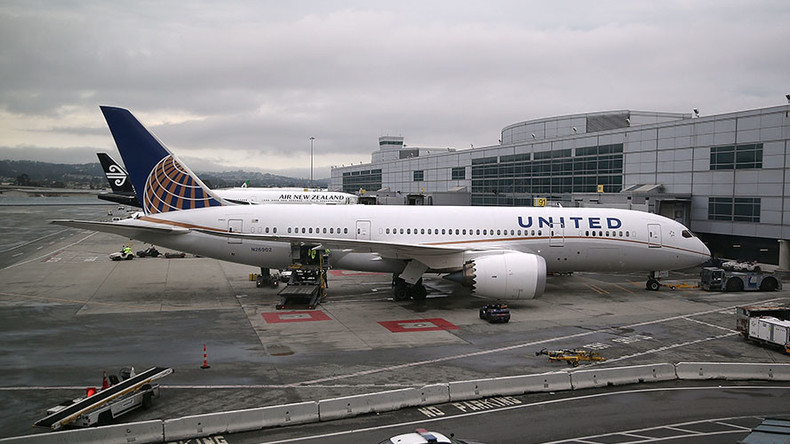 New legislation in the US Senate and the state of Illinois seeks to restrict the forcible removal of ticketed passengers who have already boarded an airplane. The bills come after a United Airlines passenger was beaten and dragged off a plane by police.
The widely-shared video of the violent removal by Chicago police officers of Dr. David Dao from a United Airlines flight out of Chicago O'Hare International Airport last week has triggered quick responses from some lawmakers. Dao's removal was based on the over-selling of seats by United Airlines, a routine and legal practice by commercial airlines in the US.
In Illinois, a Republican state representative offered a measure on Monday that would prevent state and local employees or contractors from "involuntarily" removing an aircraft passenger "by force when that passenger is seated in a seat confirmed by a valid paid or awarded ticket." The bill allows exemptions based on a "breach of peace," if the passenger is a danger to themself or others, or in cases of a public emergency.
"Passengers place their total trust in our nation's commercial airlines to bring them safely from one place to another," the legislation says. "Without this special trust, our nation's transportation system would be crippled, harming our business community and our tourism industry."
Furthermore, the bill, introduced by state Rep. Peter Breen, rejects any possibility of criminal charges against a passenger who "refuses to yield his or her seat" and demands the state avoid doing business with airlines that allow the forcible removal of passengers.
Last week, similar legislation was introduced in the US Senate by Chris Van Hollen (D-Maryland). The Customers Not Cargo Act would bar airlines from forcibly removing passengers who have already boarded a plane in cases when the airline has overbooked a flight or when airline staff wants to fly as a passenger.
"We were all shocked and outraged this week when United Airlines forcibly and brutally removed Dr. David Dao from Flight 3411," Van Hollen wrote.
"We should act immediately to ensure that airlines cannot force passengers who have already boarded to leave the plane in order to free up seats for others," he added. "Instead, they must provide sufficient incentives to encourage passengers to voluntarily deplane."
On April 9, United Airlines randomly selected passengers, including Dao, to leave the plane after no one volunteered to give up their seats on an overbooked flight. When Dao refused, aviation officers were sent to remove him. Dao again refused, leading officers to use brutal force to subdue and drag him off the plane. The encounter was caught on video and shared widely, amounting to a public relations disaster for the airline.
The violent removal broke Dao's nose, two of his teeth and caused him to suffer a concussion, his lawyer has said. Dao is suing the airline. United Airlines CEO Oscar Munoz has said the forcible removal of a passenger will "never happen again." The airline has officially proposed a policy change aimed to avoid such confrontations.