New United Airlines footage shows heated exchange before passenger dragged off plane (VIDEO)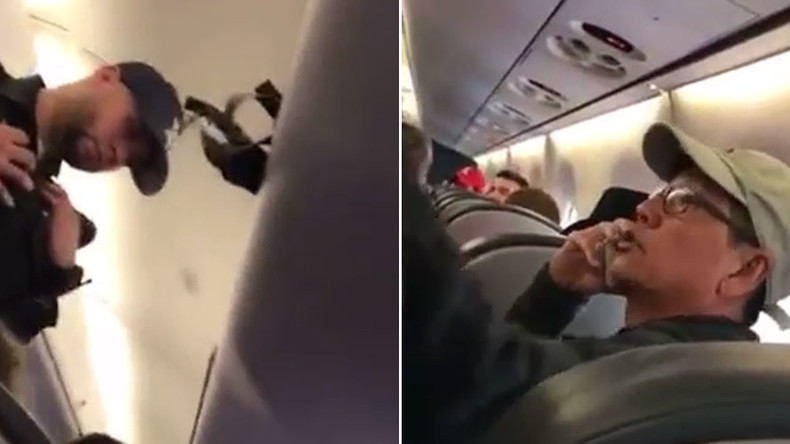 Newly-released footage from the seemingly-endless United Airlines debacle shows the heated exchange between David Dao and police, moments before they brutally removed him from a flight due to overbooking.
In the video Dao, 69, can be heard telling officers that he's "not going" because he's a "physician" and has to get to work at 8am the following day.
READ MORE: 'Ashamed & embarrassed': United Airlines CEO Munoz won't quit over passenger furor (VIDEO)
Dao tells the officer repeatedly, "I am not going, I am not going," to which the policeman replies, "Well… we have to drag you."
"Well you can then drag me," says Dao. "I'm not going. I'm staying right here," Dao adds, before stating that he'd "rather go to jail" than willingly vacate his seat.
Also in the footage, Dao threatens to bring a lawsuit against United Airlines, and he appears to be following through.
READ MORE: United Airlines stock plummeted by over $800mn after passenger fiasco
Dao's lawyers have filed an emergency request at the Illinois State Court to instruct United to preserve all evidence pertaining to the incident, including video recordings, cockpit voice recordings and passenger lists as they begin the legal process.
Last Sunday aviation officers were enlisted to remove Dao, who had been randomly selected after no passengers volunteered to give up their seats, from the Louisville-bound flight to make room for four crew members.
READ MORE: 'Putting hospital in hospitality': United Airlines mercilessly trolled over video firestorm
Since footage of police forcibly removing Dao from the plane emerged online, United has been at the center of a public relations meltdown.
The fallout from the catastrophe has prompted United to end the practice of having police officers remove overbooked passengers, and the federal policy allowing airlines to overbook flights and bump passengers has been called into question.