'Putting hospital in hospitality': United Airlines mercilessly trolled over video firestorm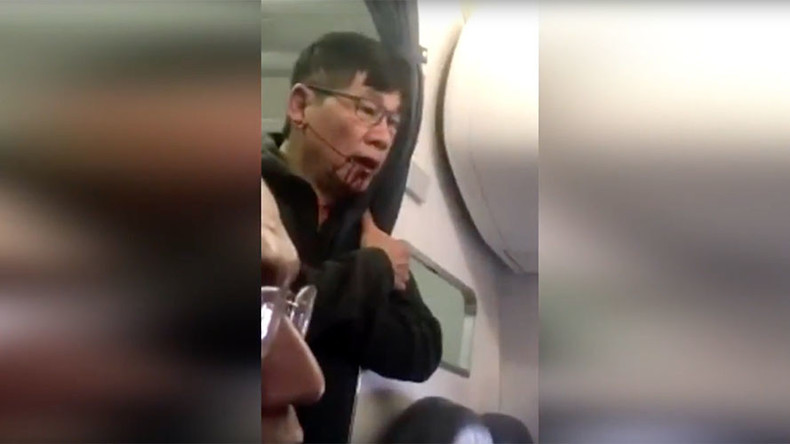 The PR firestorm which engulfed United Airlines since a passenger was dragged off one of its overbooked flights shows no sign of being extinguished. In fact, the incident has inspired Twitter users to invent company mottos for the company.
The incident that sparked the debacle took place on United Flight 3411 from Chicago O'Hare International Airport to Louisville, Kentucky, on Sunday. Videos filmed by other passengers showed a man screaming and resisting as airport police forcibly removed him from his seat.
READ MORE: Police forcibly remove passenger at behest of United Airlines in disturbing footage
People across the world reacted with shock and outrage when the footage emerged. Since then, United's bungled attempts to address the incident have managed only to heighten public outcry.
The videos show the man being dragged down the aisle on his back with his stomach exposed. There's a significant amount of blood around his mouth and his body is limp.
Twitter users have been inspired by the airline's treatment of one of its passengers to invent new company slogans and have been sharing them with the hashtag #NewUnitedAirlinesMottos.
The video has also sparked outrage in China as the man was overheard saying he was being profiled for being Chinese. The video was the number one trending topic on Chinese social media site Weibo on Tuesday, attracting more than 130 million views. Many people alleged that United were guilty of anti-Chinese discrimination and called for a boycott of the airline.
In a letter reportedly circulated to employees United Chief Executive Officer Oscar Munoz did not apologize for the way the passenger was treated, writing that he had "defied" security officers, Reuters reported.
Munoz said that he "emphatically" stands behind his employees – though he did concede there are lessons the company can learn from this situation.
"We sought volunteers and then followed our involuntary denial of boarding process (including offering up to $1,000 in compensation)," Munoz wrote. "When we approached one of these passengers to explain apologetically that he was being denied boarding, he raised his voice and refused to comply with crew member instructions."
Using the hashtag #DontFlyUnited, many expressed their disgust with the airline and say they would not be using the company again in the future.
The Chicago Department of Aviation said in a statement that one of the security officers involved in the incident did not follow protocol and has been placed on leave pending an investigation.
Passengers on the plane said the man told United staff that he was a doctor and had to return home to his patients.
The man subsequently ran back onto the plane and another video shows him in a very distressed state repeating: "Just kill me. Kill me," and "I have to go home."
You can share this story on social media: