Trump's travel ban receives another blow from court, case won't be put on hold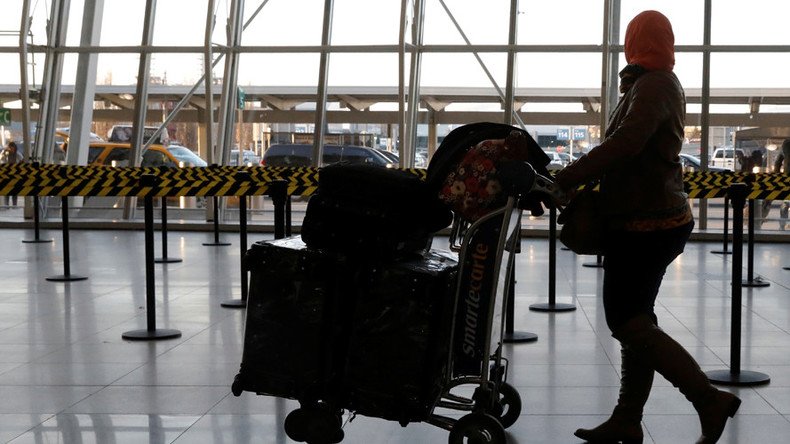 The court case over the travel ban on people from seven majority-Muslim countries won't be dropped, as the 9th Circuit Court of Appeals rejected a request from the Justice Department to put it on hold until a new executive order is issued.
The DOJ asked the federal appeals court to put the case on hold after it had upheld a restraining order against enforcing the ban in mid-February. On Monday, the 9th Circuit declined to do so, Reuters reported.
President Donald Trump is expected to issue a replacement order on Wednesday.
During the daily White House press briefing, press secretary Sean Spicer said he would not address the ruling because he had not a chance to read it, and asked for a chance to speak with the White House Counsel's Office.
"The president has made a commitment right now to continue to defend what we did," Spicer said, "because this is the strategy that he believes that we had the authority vested in US Code."
"I think that it's not a question of proving a point, it's that the manner in which it was done in the first place," he continued.
"And while the second executive order attempts to address the court's concerns that they made, the goal is obviously to maintain the way that we did it the first time because we believe that the law is very clear about giving the president the authority that he needs to protect the country."
On January 27, Trump signed an executive order that blocked people from seven majority-Muslim countries ‒ Iran, Iraq, Libya, Somalia, Sudan, Syria and Yemen ‒ from entering the US for 90 days. It also halted the US refugee program for 120 days.
Its rollout caused mass confusion, deportations and protests. There are at least 40 active lawsuits against the order in 17 states. On February 3, a federal judge issued a nationwide, temporary restraining order against enforcing the executive order. Days later, a three-judge panel for the 9th Circuit Court of Appeals upheld that TRO. Secretary of Homeland Security John Kelly took the blame for the poor rollout.
The ruling comes just hours after it was revealed that the president of UEFA, football's governing body in Europe, said that Trump's "America first" policies, including the temporary travel ban, could harm the United States' bid to hold the 2026 World Cup.
"It will be part of the evaluation, and I am sure it will not help the United States to get the World Cup," Aleksander Ceferin told the New York Times. "If players cannot come because of political decisions, or populist decisions, then the World Cup cannot be played there. It is true for the United States, but also for all the other countries that would like to organize a World Cup."
You can share this story on social media: