Trump's 'Muslim ban' sees passengers detained at airports, threatens Silicon Valley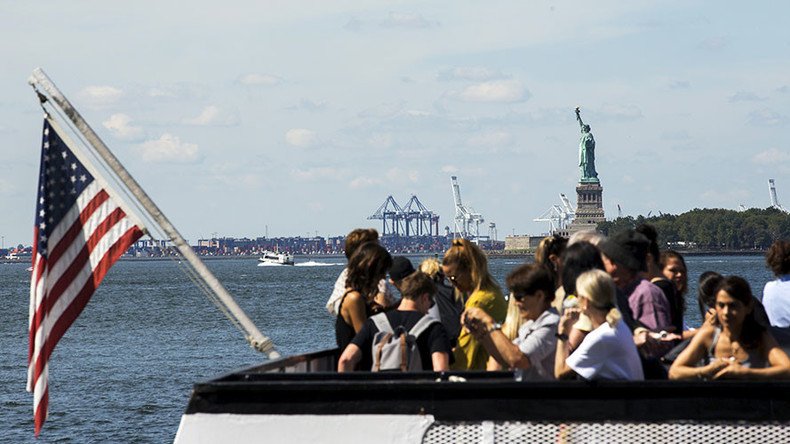 Details have emerged of passengers being prevented from boarding their flights to the US as President Donald Trump's executive order banning people from seven Muslim countries comes into effect.
Refugees from Syria have been banned indefinitely while citizens from six other predominantly Muslim nations - Iraq, Iran, Libya, Yemen, Sudan and Somalia - have been banned from entering the US for 90 days unless they possess a diplomatic visa. The order also bans the admission of all refugees for at least 120 days while the government puts a new vetting system in place.
Dutch airline KLM said they refused carriage to seven passengers on foot of the ban while Reuters are reporting that five Iraqi citizens and one Yemeni, who all held valid US visas, were barred from boarding an EgyptAir flight from Cairo to New York on Saturday after Trump signed the order Friday.
The passengers were stopped and instead placed on flights headed for their home countries, Reuters said, citing airport sources.
On Saturday, Qatar Airways advised US-bound passengers from the banned countries that they needed to have either a US green card or diplomatic visa to gain entry to the country, as both immigrant and tourist visas were no longer sufficient to gain access.
However, a Homeland Security spokeswoman said Saturday that the executive action also covers green card holders from the seven targeted countries.
"It will bar green card holders," Gillian Christensen, acting Department of Homeland Security spokeswoman, said in an email cited by Reuters.
There have also been reports of refugees and immigrants being detained at airports across the US in the wake of the order.
The detentions quickly prompted legal challenges as lawyers representing two Iraqi men being held at JFK Airport filed a writ of habeas corpus seeking to have their clients released. The detained men are Hameed Khalid Darweesh, who was granted a Special Immigrant Visa (SIV) for his service to the United States as an interpreter, engineer and contractor, and Haider Sameer Abdulkhaleq Alshawi, who was granted refugee status due to a family association with the US military. The lawyers also filed a motion to represent all refugees and immigrants who they said were being unlawfully detained at ports of entry.
Executives from leading tech companies have also spoken out against the executive order and its potentially damaging effect on the running of their businesses.
Facebook founder Mark Zuckerberg was among the first to be critical of Trump's order. In a post on the social network he cited his family history of immigration and said the United States is a nation of immigrants.
Google contacted staff overseas to warn them that they would be affected by the order, advising them to get back to the US immediately. In a note to employees seen by Bloomberg, Chief Executive Officer Sundar Pichai was severely critical of the order.
"It's painful to see the personal cost of this executive order on our colleagues," Pichai reportedly wrote to his colleagues. "We've always made our view on immigration issues known publicly and will continue to do so."
More than 100 Google staff have been affected by the order. The employees in question normally work in the US but just happened to be abroad when the order was signed.
Meanwhile, Microsoft also flagged the executive order as a human resources concern. In its latest quarterly report, the tech company said that its "business is based on successfully attracting and retaining talented employees" in an "extremely competitive" industry.
"We are limited in our ability to recruit internationally by restrictive domestic immigration laws," the company notes.
"Changes to U.S. immigration policies that restrain the flow of technical and professional talent may inhibit our ability to adequately staff our research and development efforts. If we are less successful in our recruiting efforts, or if we cannot retain key employees, our ability to develop and deliver successful products and services may be adversely affected."
You can share this story on social media: