Maine & Seattle take opposite approaches on soda to solve obesity problem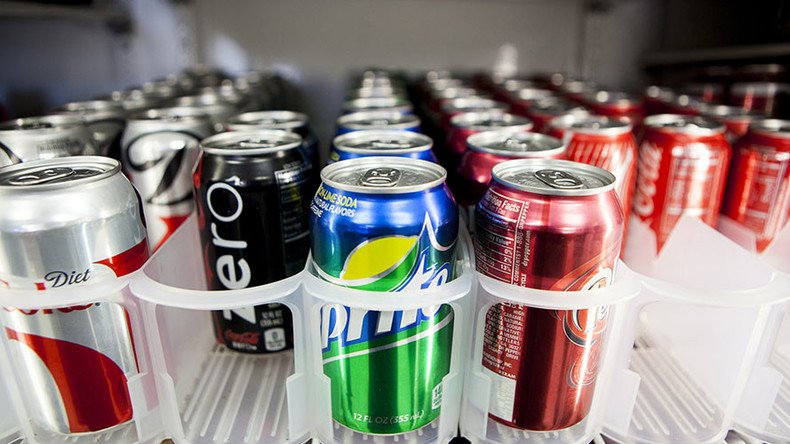 Maine and Seattle, Washington are taking two different approaches to sodas and fighting obesity. The Pine Tree State wants to ban the purchase of sugary drinks and candy with food stamps, while the Emerald City seeks a tax on sodas to help education.
The Maine Department of Health and Human Services (MDHHS) asked the federal government on Friday for a waiver to ban the purchase of soft drinks and candy under the Supplemental Nutrition Assistance Program (SNAP, better known as food stamps). It is the second time that the LePage administration has sought such a waiver from the US Department of Agriculture. The USDA under then-President Barack Obama denied the request last summer.
"Maine believes the purchase of sugar sweetened beverages… and candy is detrimental to the health of its SNAP population, and undermines the purpose of the SNAP program," MDHHS Commissioner Mary Mayhew wrote in the request. "Maine believes it critical to take immediate steps toward improving health and increasing responsible spending of federal dollars intended to purchase nutritious food for low-income Mainers."
The waiver request also seeks the authority to reallocate $4 million in federal nutrition education money from SNAP to food banks, schools and community agencies.
"This plan would create better access to health foods while streamlining administratively burdensome SNAP-Ed programming and reporting requirements," Mayhew wrote.
Republican Governor Paul LePage previously threatened to end Maine's administration of SNAP if the waiver wasn't approved.
"You maintain such a broken program that I do not want my name attached to it," LePage wrote in a June 2016 letter to the USDA.
LePage also previously sought to ban junk food purchases with food stamp benefits through the legislature in both 2013 and 2015, but both attempts failed, the Bangor Daily News reported.
Democrats have long had a testy relationship with the controversial governor, but are in support of the SNAP restrictions, according to the co-chair of the legislature's Health and Human Services Committee.
"We know the public would like a public benefit to support health and healthy food choices," state Representative Patricia Hymanson, a Democrat, told the Bangor Daily News. "I see that in my district when I go door to door. We should all eat and drink fewer sugary products."
Nearly two-thirds of Maine's adult population is overweight or obese, and the state has the highest obesity rate in New England. It spends $700 million annually on obesity-related medical costs, according to Mayhew.
"This [SNAP] money is supposed to help people in desperate straits," Republican state Senator Eric Brakey told the Bangor Daily News. "If I was donating money to a charity for people in desperate situations and I found out that someone was using it for soda or candy, I would want my money back."
Meanwhile, in Seattle, Democratic Mayor Ed Murray proposed a 2-cent, per-ounce tax on sugary drinks on Tuesday. The expected $16 million raised annually would be invested in education "to eliminate the opportunity gap between white students and African American/Black students and other historically underrepresented students of color," the mayor said in a statement.
The tax would affect sodas, energy drinks, fruit drinks, sweetened teas and ready-to-drink coffee drinks, as well as drinks that use a specific amount of caloric sweetener, syrups and powders that are used to prepare sugary beverages. In-store prepared coffee, 100-percent fruit juice and infant formula would be exempted.
The money would fund programs recommended by the Education Summit Advisory group.
Education advocates praised the announcement, which was made as part of the mayor's annual State of the City address.
"In addition to providing funding for early learning programs, sugary drink tax revenues can be invested in low-income communities disproportionately affected by health conditions caused by sugary drinks, while also raising revenue for crucial programs that improve health both directly and indirectly, like chronic disease prevention programs and public safety," Mark Shrivers, the president of the Save the Children Action Network, said in a statement.
You can share this story on social media: