Portland graffiti depicts 'racist, homophobe, moron' Maine governor as KKK grand wizard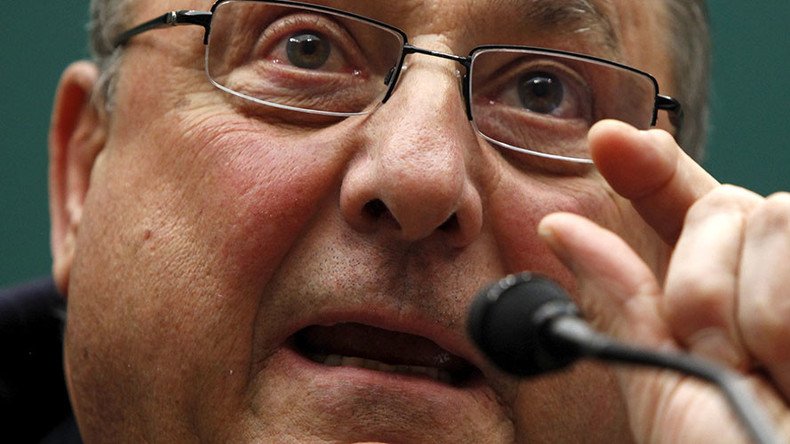 While Maine Governor Paul LePage may be a controversial figure, Portland residents are more apt to argue over whether a giant mural depicting him wearing the robes of a Ku Klux Klan grand wizard is hate speech or good art.
The mural was painted along a popular walking trail on the wall of a water treatment facility in Portland sometime in the last week by an unknown graffiti artist. It showed LePage dressed in a white hood and robe emblazoned with a red KKK insignia. Next to it, in large block letters, the words "racist," "homophobe," "moron" and "governor" ‒ which was crossed out ‒ were written. It was painted next to a large mural that read: "Dump LePage."
The Republican governor gained national notoriety in January, when he said that "drug dealers" and "black people" were impregnating "young, white girls" and "our white women" in Maine. He also threatened to bring back the guillotine for drug dealers in the Pine Tree State, which abolished the death penalty in 1887. A day later, LePage told residents to"load up and get rid of the drug dealers. Because, folks, they're killing our kids."
At the end of August, he called an opponent a "socialist c***sucker."
On Tuesday, Mayor Ethan Strimling wrote the Portland Water District, which owns the wall, asking them to remove the mural.
"I do not want it up there. It is not reflective of our values," he told the Portland Press Herald. "The KKK has a long, problematic history in the state of Maine, and equating the governor and his rhetoric, as much as we disagree with it, is a step too far."
Strimling has long battled with the controversial governor, but said that his request to remove the mural isn't a peace offering to LePage.
"I am as frustrated as the next person with the governor's rhetoric," he said. "It is not appropriate to trivialize the KKK."
Other than the mayor's request, officials seem reluctant to take action to remove the mural.
The city is in charge of removing any offensive artwork, the Portland Water District told WMTW. The company is "talking with the City of Portland to see what can be done," spokeswoman Michelle Clements told the Washington Post. In the 15 years since the wall became a designated art space, Portland has never removed a painting, she said.
However, neither the city nor police seem likely remove it, even though they may not condone the message.
"We can't do anything because it's sanctioned and it's a matter of free speech," city spokeswoman Jessica Grondin told the Bangor Daily News. "If it was hate speech, it would be illegal. But it's not."
"We are seeing what the council would like and also exploring what our options are because, obviously, there could be legal ramifications if we were to take it down," she later told the Washington Post.
Many Portland residents seem to approve of the art. Maine's largest city is a liberal enclave in a state that leans Republican, and 78 percent of Portlanders voted against LePage in 2014.
"This city always seems to create great art over awful stuff, and he is awful stuff," Kellie Smith told the Portland Press Herald while taking in the mural.
"This is the trajectory he is on," Smith said. "This is an honest portrayal, it is good work."
"He's just a hateful person," Tim Kennedy agreed. "When he expresses hateful views, he gets what he gets."
Not everyone is so appreciative, however. On Tuesday night, two people, including Mark Reilly, a LePage supporter who thinks that the KKK portrayal went too far, came out to paint over the mural.
"I think that things that he has said in the past are very concerning," Reilly told WCSH. "However, if you look past what he says and look at what he does for the state, I think the state's been in better shape since he's been in office."
Shortly after, though, a group of about 15 people came out to wash off the paint, WMTW reported. That led to a brief argument between Reilly and the group that removed his work.
"We took a stand, and we said, 'No, this is our city... This represents us'," Erica Hall, who helped remove Reilly's paint, told WCSH. The mural "doesn't have to stay, but it does have to get the message out," she added.
By 10pm Tuesday night, however, the mural had been altered to remove the KKK robe. It was replaced by what appears to be Mickey Mouse ears, flanked by the words "no hate" and "hate is hate." The original words of "racist," "homophobe," "moron" and the crossed-out "governor" remain.
It remains unclear what the sentiment behind the Mickey ears is.
You can share this story on social media: