Drug dealers impregnating 'young white' girls in Maine heroin epidemic – governor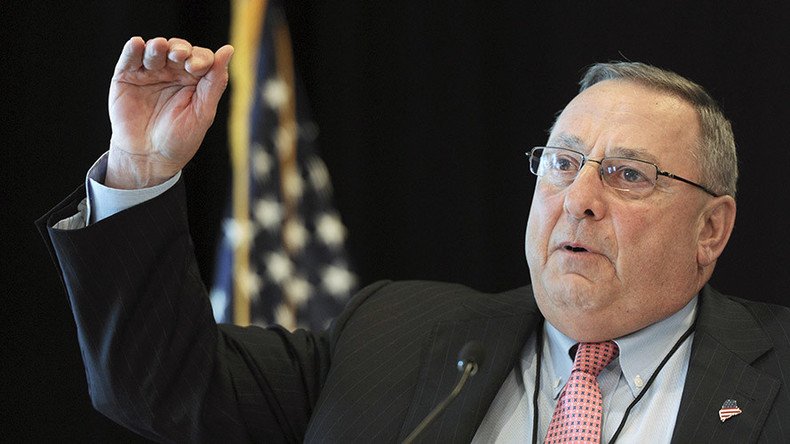 Maine's Republican Governor Paul LePage has been accused of racism after claiming the state's s heroin epidemic has been exacerbated by out-of-state drug dealers impregnating "young white" girls.
"These are guys with the name D-Money, Smoothie, Shifty – these types of guys," said LePage at a town hall, according to the Portland Press Herald which captured the comment on video. "They come from Connecticut and New York, they come up here to sell their heroin, they go back home."
"Incidentally," he added, "half the time they impregnate a young, white girl before they leave, which is a real sad thing, because we have another issue we have to deal with down the road."
LePage, a white man, made the remarks when discussing the state's heroin epidemic on Wednesday. He claimed it was being driven by outsiders, although he did not describe the race of the dealers. A spokesman said Thursday he was not making a comment about race, but reaction has been swift.
Perhaps smarting from the troubleshooting the Republican Party is having to do over what many see as insulting remarks coming from presidential frontrunner Donald Trump, moderate Republican and local LePage critic Lance Dutson pointed to the comments and said the governor was playing into people's racial fears.
"This is one of the most blatantly racist statements he's ever made," said Dutson, a Republican operative in Maine, according to the Associated Press. "One of the things that's offensive about it is that it's reminiscent of this fearmongering in American history that people would like to think is long gone."
LePage's chief of communications, Peter Steele, insisted the governor wasn't talking about race when he made the comment.
"Race is irrelevant," Steele said via email to AP. "What is relevant is the cost to state taxpayers for welfare and the emotional costs for these kids who are born as a result of involvement with drug traffickers. His heart goes out to these kids because he had a difficult childhood, too. We need to stop the drug traffickers from coming into our state."
The president of the National Association for the Advancement of Colored People (NAACP)'s Bangor chapter, Michael Alpert, said the governor's comments were "sad" and "foolish."
This is not the first time LePage has courted controversy, and it seems his comments are often exposed by other Republicans.
At a Maine Republican Party fundraiser in 2013, at a private home for a meet and greet for LePage, he was heard to say that President Barack Obama "hates white people."
Two Republican lawmakers confirmed the remarks to a Portland Press Herald reporter but requested their names be withheld. Each said LePage talked about how Obama could have been the best president ever if he had emphasized his biracial heritage, the newspaper reported. LePage allegedly said Obama hasn't done that because he hates white people.
In September 2010, LePage allegedly told a group of fisherman that after he would be elected, "As your governor, you're going to be seeing a lot of me on the front page, saying 'Governor LePage tells Obama to go to hell.'"
In January 2011, shortly after he was sworn in, he declined an invitation to an event hosted by the NAACP in Portland. When asked about what he would tell the group if it questioned his decision, LePage said, "Tell them to kiss my butt."
In July 2012, he compared the Internal Revenue Service to the Gestapo, the Nazi police. He has called protesters "idiots" and said a political opponent liked to "give it to the people without Vaseline."
Before he endorsed presidential candidate and New Jersey Governor Chris Christie in early July, LePage reminded the public of his unorthodox approach to politics.
"I don't play the political game very well – never have, never will," he said at a diner, reported The New York Times. "Don't plan to learn."
You can share this story on social media: