Profiting from poverty: Amazon wants to cash in on food stamps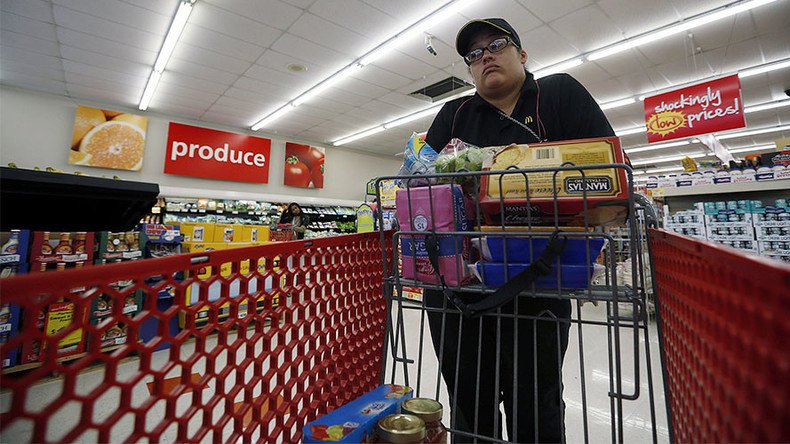 The US Department of Agriculture (USDA) is starting a pilot program allowing online grocers like Amazon to accept food stamps this summer. With 43 million Americans relying on food stamps, the winners are large corporations.
The program called the Supplemental Nutritional Assistance Program (SNAP) costs the American government $74 billion.
"Amazon is excited to participate in the USDA SNAP online purchasing pilot. We are committed to making food accessible through online grocery shopping, offering all customers the lowest prices possible," the company said in a statement.
Besides Amazon, the list of companies that will accept food stamps includes Safeway, ShopRite, Hy-Vee, Hart's Local Grocers, and Dash's Market.
Recently, Amazon launched a $99-per-year Prime program, targeting middle-class consumers. The news about the company's participation in food stamp program has raised questions on whether low-income consumers will be able to afford the fee. Amazon also offers Prime for $10.99 a month, but that works out at almost $132 per year, which is even more expensive.
According to USDA, online food stamp purchases need "a higher level of security" because of the risk of fraud. These security measures are likely to be expensive for taxpayers.
"Since 2004, 18 of 24 states who contract with J.P. Morgan to provide welfare benefits have contracted to pay $560,492,596.02," said a 2012 investigation by the Government Accountability Institute (GAI), as quoted by Breitbart.com. The sum is likely to have grown in the four years since the report was published.
The US food stamp program is also susceptible to corruption. Last year, law enforcement busted the largest food stamp fraud operation in American history. Twenty-two people were arrested for swindling the government out of $13 million by exchanging food stamps for cash in Hispanic and black areas of Miami-Dade County, Florida.
Zerohedge has quoted a 2012 federal investigation, uncovering evidence that food stamp recipients used them to buy drugs, weapons and other illegal items. In 2013, Judicial Watch published a report saying the US government "knowingly gave illegal immigrants food stamps," quoting a whisteblower in the industry.
A report from the USDA also noted that $1.3 billion in food stamps were spent on "sweetened drinks, desserts, salty snacks, candy, and sugar," which accounts for about 20 percent of all food stamps used by 26.5 million households in 2011.
Eligible food items under the USDA food stamp program include fruits and vegetables, bread and cereals, dairy products, meats, fish, and poultry.
You can share this story on social media: