Ramen noodles top prison currency as food quality down - report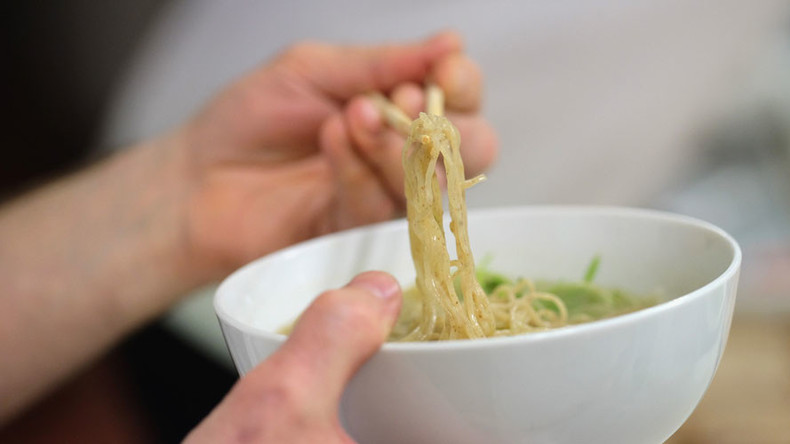 Ramen noodles have become prime currency among US prisoners amid "punitive frugality" and cost-cutting measures that have reduced meal quality while passing off the burden to prisoners, a new study says.
Ramen has begun to replace the likes of cigarettes, stamps, and envelopes as the top commodity among prisoners, according to a new study — 'Must Work for Food: The Politics of Nutrition and Informal Economy in an American Prison' — by Michael Gibson-Light, a doctoral candidate at the University of Arizona's School of Sociology.
Gibson-Light observed prison work and interviewed around 60 inmates and prison staff at an unnamed male state prison in the US Sunbelt from May 2015 to May 2016, according to a University of Arizona press release. Guided by past research on the same subject, his goal was to determine how corrections systems in the US are shifting burdens of everyday life in prison onto inmates in the enduring age of mass incarceration and cheap prison labor that benefits private corporations.
The value of ramen indicates how desperate inmates are for decent nutrition during a day full of low-pay work and exercise, the study said.
"Punitive frugality is not a formal prison policy, but rather an observable trend in prison administration practice in institutions throughout the country," Gibson-Light said.
"Throughout the nation, we can observe prison cost-cutting and cost-shifting as well as changes in the informal economic practices of inmates," he added. "Services are cut back and many costs are passed on to inmates in an effort to respond to calls to remain both tough on crime and cost effective."
The popularity and immense value of high-calorie ramen noodles is a prime example of how "punitive frugality" plays out among inmates. "Soup," as ramen is known, can be bought for 59 cents at the commissary of the prison involved in the study. Yet two packets of ramen can by a sweatshirt worth $10.81, for example.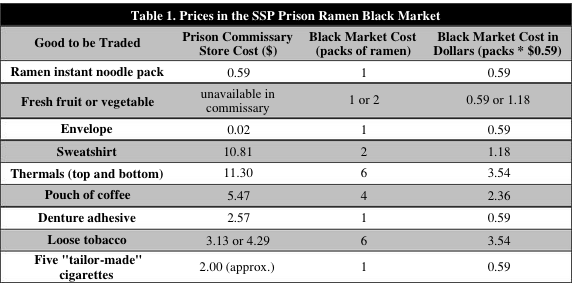 "One way or another, everything in prison is about money," a prisoner named Rogers told Gibson-Light in the report. "Soup is money in here. It's sad but true."
The prison involved in the study recently switched from three hot meals a day to two hot meals and a cold lunch during the week, and two meals a day on weekends. Food-quantity changes, as well as the basic quality of food offered to inmates, have driven black-market food purchases at prisons.
"Prisoners are so unhappy with the quality and quantity of prison food that they receive that they have begun relying on ramen noodles — a cheap, durable food product — as a form of money in the underground economy," Gibson-Light said. "Because it is cheap, tasty, and rich in calories, ramen has become so valuable that it is used to exchange for other goods."
The study found that since 1982, per capita corrections budgets have not kept pace with inmate populations.
"Prison staff members as well as members of the inmate population provided narratives of the history of changes in prison food — the past few decades have seen steady decreases in the quality and quantity of inmate food," Gibson-Light said.
He said other studies and accounts have pointed to similar scenarios at prisons not involved in his study.
"What we are seeing is a collective response — across inmate populations and security levels, across prison cliques and racial groups, and even across states — to changes and cutbacks in prison food services," he said.
One former prisoner even wrote a book indicating the popularity of ramen among the incarcerated. Gustavo "Goose" Alvarez said he was inspired to write his book, 'Prison Ramen: Recipes and Stories From Behind Bars', following a race riot at his prison in 2009 that was settled over a feast centered on ramen noodles.
The study advocates for more research of prison food services and how drastic changes to corrections budgets have impacted life in prison.
"The form of money is not something that changes often or easily, even in the prison underground economy; it takes a major issue or shock to initiate such a change," he said. "The use of cigarettes as money in US prisons happened in American Civil War military prisons and likely far earlier. The fact that this practice has suddenly changed has potentially serious implications."
Gibson-Light is due to present his study on Monday at the 111th Annual Meeting of the American Sociological Association in Seattle.
You can share this story on social media: