For-profit prison earnings increase due to surge in immigrant family detention centers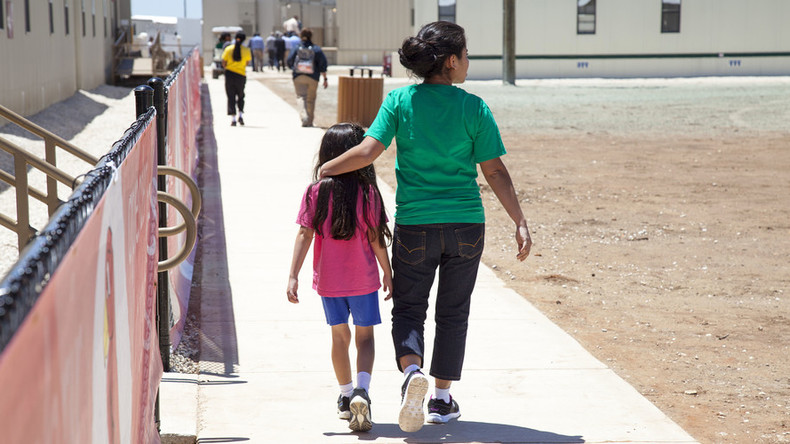 Two of the country's largest for-profit prison companies reported to shareholders that their earnings have swelled thanks to detention centers holding immigrant families.
The Corrections Corporation of America, the largest private corrections firm in the United States, reported revenue of $447.4 million in the first quarter of 2016, a 5 percent increase from the same quarter a year prior, the company reported in a statement.
"We are pleased with our first quarter financial performance, which exceeded our first quarter guidance…" CCA's chief executive Damon Hininger said. "Our financial performance was driven primarily by stronger than anticipated demand from our federal partners, most notably Immigration and Customs Enforcement."
The statement went to say that the increase in revenue was "primarily attributable" to a contract at the South Texas Family Residential Center in Dilley, Texas. The facility, which primarily houses women and children from Mexico and Central America, generated about $70.8 million in revenue, compared to only $36 million in the year prior.
GEO Group, another private corrections firm, reported a 19 percent increase in revenues, from, shooting to $510 million in the first quarter of 2016 from $427 million a year before. The company pointed to the 626-bed expansion of the Karnes County Residential center located in Karnes, Texas.
Dilley opened in December 2014, with space for 480, and expanded by April 2015 to house up to 2,400 with a staff of nearly 700, among them being teachers, pediatricians and psychiatrists.
Though they contain amenities such as chapels, beauty salons, playrooms and soccer fields, pro-immigration activists liken the detention centers to jails for children, and allege that the centers facilitate human rights abuses.
"It's sickening to hear CCA and GEO brag about their profitable quarter to shareholders," Cristina Parker, immigration programs director at the immigrant advocacy organization Grassroots Leadership, said in a statement."That money is made off the suffering of mothers and children who came to the US for refuge."
Also addressed in the CCA's statement was the recent controversy over the company's licenses being blocked, due to controversy over them being named designated as child care facilities rather than detention centers.
"Like last fall the state has again encountered legal challenges this week to their authority to license family residential centers with the state receiving a 14 day restraining order yesterday which prevents any issuance of the license during that period of time," Hininger told shareholders, according to YubaNet. "Finally, we believe successful license to the facilities fully consistent with this mission for this South Texas facility and will enhance the facility ability to address the diverse needs of migrants apprehended at the southern border."
Detention centers, as they exist today, only appeared in response to the surge in Central American migrants crossing the US-Mexico border in the summer of 2014.
In response to protests, lawsuits and pressure from Democratic lawmakers, the Obama administration changed change policy to minimize the practice of detaining immigrant women and children in June 2015.
The policy change allows immigrant families to be released from detention centers on bond if they face "credible or reasonable fear of persecution in their home countries," and it requires that immigration officials take steps to shorten how long families are detained.
You can share this story on social media: