Texas lowers childcare standards for private migrant detention centers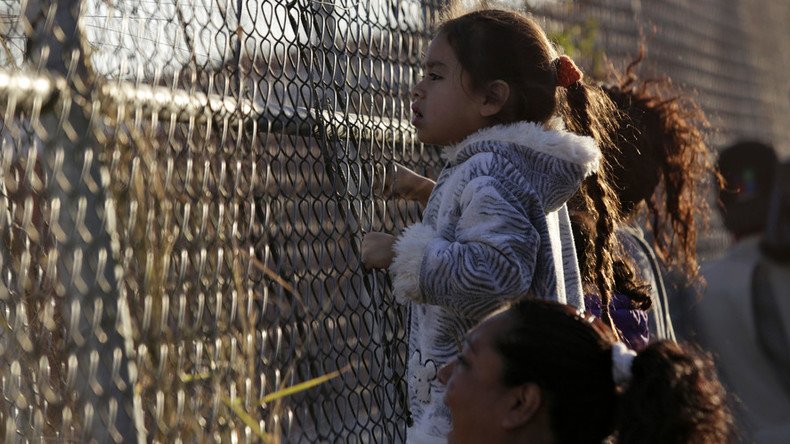 Two for-profit detention centers housing hundreds of children in Texas will not need to meet the state's childcare standards starting next month, after the state's Health and Human Services Commission lowered its standards on Friday.
A federal court announced a ban on housing children in detention centers that aren't licensed by child welfare agencies last July.
A veteran social worker blew the whistle on what she called "unethical behavior" inside Karnes County Residential Center (KCRC) during a Congressional hearing in June.
Without the license, Geo Group's KCRC and the South Texas Family Residential Center, which is run by the Corrections Corporation of America, were in danger of being closed down.
However, instead of making the two centers meet the existing regulations, the commission created an exemption by increasing the maximum number of occupants that can be accommodated in a room – and allowing unrelated adults and members of the opposite sex to share rooms with children.
A number of detention centers have been accused of incidents involving sexual assault and inhumane conditions.
The migrant advocacy group Refugee and Immigrant Center for Education and Legal Services (RAICES) sued the Department of Homeland Security in August, accusing them of withholding information on sexual abuse complaints.
A woman held in the Karnes County Residential Center for eleven months told reporters that her son did not receive adequate medical care and that children lost weight and "often fainted" due to the poor quality of the food.
She said guards would only give the children toys when officials were visiting.
According to Grassroots Leadership, the new Texas licensing standards "will not improve conditions for children in family immigration detention centers to a level that ensures adequate protection of child welfare, but instead will put the agency's seal of approval on existing conditions that are deeply problematic. The emergency rules modify the standards to meet the practices at the facilities rather than requiring the facilities to ensure practices that meet minimum standards for child welfare."
The activist group managed to delay the rule by suing DFPS for attempting to rush it through without public comment.
An injunction was granted in November and public comments were invited in December.
An open records request by Grassroots Leadership revealed "more than 5,000 pages of comments in opposition to the proposal."
The group described the bid by the Department of Family and Protection Services to ease standards as "fundamentally at odds with the agency's mission of ensuring safe and healthy childcare services as part of its overall mandate to protect children from abuse, neglect, and exploitation."
"It is simply not possible for DFPS to regulate or license family immigration detention centers without skirting the rules that it normally requires facilities to follow, in order to ensure the health and safety of children."
Children detained by immigration officials could not be held in detention facilities for more than 72 hours before the federal government renewed the detention of immigrant families in 2014, arguing it was better to keep families together.
The new regulation exemption is set to go into effect March 1.
You can share this story on social media: