'Ammunition to jihadists': Democrats decry Trump's 'Muslim ban' outside Supreme Court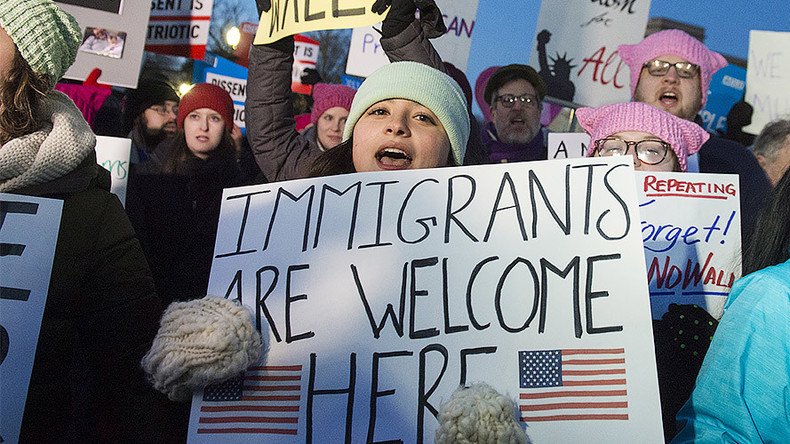 Trump's 'Muslim ban' has given "ammunition to all jihadists" across the globe, Democrat Bernie Sanders said at a rally denouncing the executive orders on refugees and immigration outside the Supreme Court in Washington, DC.
Trump's 'Muslim ban' fallout LIVE UPDATES
The rally was organized via Facebook by the group Win Without War, which promotes "a more progressive national security strategy,"according to its website. At least 1,900 people reportedly checked in at the event.
Demonstrators were seen carrying banners saying "Stop racism", "Deport Donald" and "All are welcome here". Some protesters were heard chanting such slogans as: "Hands too small, can't build a wall", "No hate, no fear. Immigrants are welcome here" and "Build a fence around Mike Pence".
People gathered on the steps of the Supreme Court, where the Democrats were holding a press conference calling on Trump to drop the ban.
"What Trump has done is given ammunition to the jihadists all over the world who have told their people that we in the United States hate them. We do not hate the Muslim people and we want them to know that. So we say to President Trump, rescind that ban," Bernie Sanders, a Vermont senator who took part in the 2017 presidential race, shouted to the crowd.
Chuck Schumer, a Senate Minority Leader, said that the travel ban "is against what we believe in, in America."
"The order will make us unsafe, the order will make us inhumane and the order will make us less of America," he added.
According to Senator Elizabeth Warren (D-Massachusetts), Americans should "stand with our fellow human beings who flee terrorism."
"We stand with the people who helped American soldiers. We will fight Donald Trump in the courts, we will fight Donald Trump in the Congress," Warren said, adding that Trump is trying "to put himself above the law of the United States."
The rally took place the day Trump fired acting Attorney-General Sally Yates after news broke that she was instructing Department of Justice lawyers not to defend the executive order.
READ MORE: Trump fires acting attorney general for refusal to enforce 'extreme vetting' order
"I am responsible for ensuring that the positions we take in court remain consistent with this institution's solemn obligation to always seek justice and stand for what is right," Yates wrote in a letter to top Justice Department lawyers, according to the New York Times. "At present, I am not convinced that the defense of the executive order is consistent with these responsibilities nor am I convinced that the executive order is lawful."
Yates "betrayed the Department of Justice by refusing to enforce a legal order designed to protect the citizens of the United States," a press release from the Office of the Press Secretary read.
Trump responded to Yates' move on Twitter, calling it an example of Democrats' obstruction "for purely political reasons."
You can share this story on social media: