Protests could steal the show from Trump's inauguration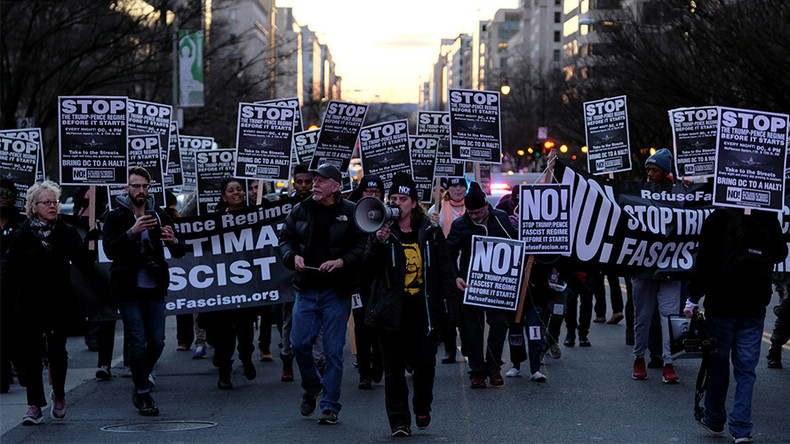 Demonstrations don't normally mar inaugural festivities, but President-elect Donald Trump could join former Presidents Richard Nixon and George W. Bush as the most protested incoming commanders-in-chief in US history.
The National Park Service has credentialed at least 28 protest groups on the National Mall, and is expecting more than 350,000 demonstrators, Politico reported, citing an internal agency spreadsheet. A typical inauguration sees only five or six such requests.
Democratic lawmakers, mostly in the House of Representatives, will be boycotting the Trump inauguration, but most demonstrations against the incoming administration will be far more vocal and visible.
Protests kicked off in the nation's capital on Wednesday night, with an LGBT dance party in front of Vice President-elect Mike Pence's temporary home. That event was hosted by DisruptJ20, a broad coalition of far-left groups.
On Thursday, the Poor People's Economic Human Rights Campaign hosted an anti-war rally, while another group demonstrated outside the "Deploraball," a pre-inaugural party to celebrate Trump's election.
Not all protests are against Trump though. Some people are rallying to show their support for the billionaire businessman-cum-politician.
The protests will start early on Friday, the day of the inauguration, with a demonstration by the ANSWER (Act Now to Stop War and End Racism) Coalition starting at 7am at the Navy Memorial.
Marijuana advocates are hosting #Trump420, which will focus on marijuana's status as illegal on the federal level in the US. The DC Cannabis Coalition (DCMJ) says that people will gather at the west side of Dupont Circle at 8am for "coffee and tea and parade down to the National Mall." Along the way, the group will "hand out 4,200 joints of legally-grown cannabis," a statement read. Participants are expected to light up their joints four minutes and 20 seconds into Trump's presidency.
READ MORE: Protester tries to set himself on fire outside Trump hotel in Washington, DC
DisruptJ20 will be active throughout the day, with the "Festival of Resistance," a permitted, march and rally that the group describes as "family-friendly," as well as the unpermitted "Anticapitalist Bloc" march. The organization will also host demonstrations at the dozen Secret Service checkpoints along the National Mall and parade route.
The protests will culminate on Saturday with the Women's March on Washington. That demonstration was organized hours after Trump was elected and expects at least 200,000 people. It comes 100 years after women first participated in inauguration activities, marching after the second swearing-in of President Woodrow Wilson in 1917. That women's march, which had 5,000 participants, helped mobilize support for the 19th Amendment to the Constitution, giving women the right to vote.
You can share this story on social media: