'This was an execution': New videos show California police shooting mentally ill men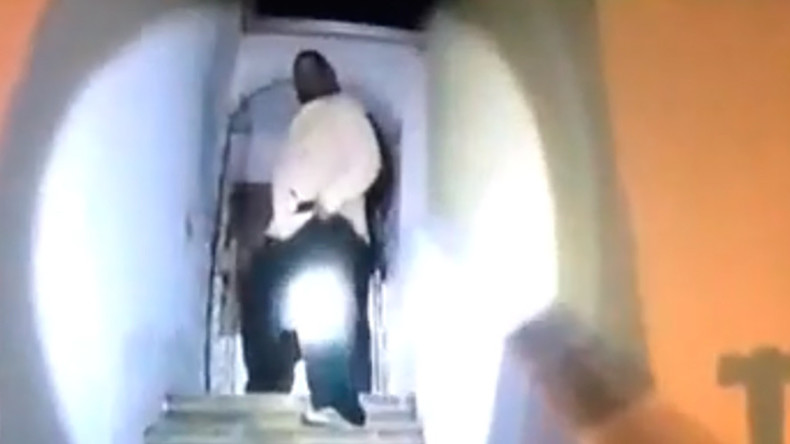 Newly-released footage of separate police shootings in California show officers escalating encounters with mentally ill men before firing on them. One man was unarmed while the other, who was killed, may have had a small knife.
On Wednesday, the San Francisco Public Defender's Office released officer body camera footage of a shooting incident on January 6 involving the San Francisco Police Department. The shooting put Sean Moore, a black man diagnosed with schizophrenia and bipolar disorder, in the hospital. In Fontana, California, the family of James Hall, a legally blind man with schizoaffective disorder, released surveillance footage showing several Fontana police officers cornering Hall at a convenience store in November 2015 before shooting him dead.
In both incidents, police claimed the men advanced on them before officers fired, yet both videos depict heavily-armed cops escalating incidents with distressed men and then firing at them.
'This was an execution'
In the case of Hall's shooting, police were called by a convenience store clerk who reported a possible burglary in process, according to the Los Angeles Times. In a police report, Fontana officers said Hall was "armed with a knife," though it is difficult to determine if Hall was carrying a knife based on the muted, grainy surveillance video.
Several Fontana cops and a police dog arrived on the scene. Many of the cops walked into the store with firearms and stun guns drawn. Police soon fired in Hall's direction and released the dog, according to a state civil rights and wrongful-death lawsuit filed by Hall's family.
The officers eventually cornered Hall in the back of the store and fatally shot him as he shuffled along a store shelf. Fontana police have said the officers only fired when Hall advanced on them.
The lawsuit, filed more than a month ago in San Bernardino County Superior Court, alleged that police unnecessarily escalated the situation, acting "in reckless and callous disregard for the constitutional rights" of Hall, the LA Times reported.
"It's a disturbing video indictment of the officers," said Mark Geragos, an attorney whose firm is working with Hall's family, according to the LA Times.
"The video puts the lie to the obviously falsified police account of what happened. In fact, this was an execution," he said.
Hall was known in the community as a peaceful person and that others were "fully aware of his disabilities," Hall's family said in the lawsuit against the city and its police department. The suit names 12 Fontana police officers involved in the shooting.
'Officers … essentially escalated the situation'
Marking the first instance that San Francisco police body camera footage was released to the public, San Francisco Public Defender Jeff Adachi has called for felony charges against Sean Moore, the unarmed man shot by San Francisco police, to be dropped. The footage was released by Adachi on Wednesday after his office received it from the District Attorney's Office.
On January 6, San Francisco police officers Kenneth Cha and Colin Patino attempted to address Moore for a violation of a restraining order filed by his neighbor. A tense back-and-forth ensued between an agitated Moore and the officers, who eventually retreated to the bottom of a staircase leading to the door of Moore's residence. At this moment, Adachi said, the officers could have effectively de-escalated the situation.
"Clearly, once the officers had gone back to the bottom of the stairs, that was a point, for example, when a Crisis Intervention Team (CIT) could have and should have been called," Adachi said, according to KQED. "Instead the officers went back up the stairs and essentially escalated the situation."
Moore – a diagnosed schizophrenic, according to his family and the public defender's office – eventually opened the gate to his door to grab the document. Cha then pepper sprayed Moore, who then kicked Cha and hit Patino amid a brief scuffle before retreating to his door. The officers, in turn, went back down the stairs. When Moore again emerged from the door, both officers closed in on him, as Patino hit Moore with a baton. Moore then punched Patino in the face as Cha fired two shots that hit Moore in the groin and abdomen.
"Officer Cha is approaching towards him before the shots were fired," Moore's attorney Brian Pearlman of the Public Defender's Office, said Wednesday.
Moore then crawled back into his residence to call 911, KQED reported. Barricaded inside, he waited more than an hour before officers entered the home. Moore is being held on $2 million bond and faces felony charges including assault of an officer and resisting arrest.
The officers did not know of Moore's poor psychiatric health, and while they had gone through basic crisis training, they had not received more specialized CIT training to deal with the mentally ill, according to Toney Chaplin, acting chief of the San Francisco Police Department.
"The officers are taught to kind of try to play through it and work out and resolve it on their own," Chaplin said, according to KQED. "They talked this guy down. They did what they could to try to calm him down, they were doing the best they can to explain why they were there. We watched the same video. They explained over and over. To me they kept a neutral voice even in the face of ethnic and racial slurs and everything that came with it."
The department recently enacted rules guiding the CIT. Those rules call for non-CIT officers to ask for a CIT member if possible: "When non-CIT officers are dispatched to or on-view a person in crisis incident, the non-CIT officer shall request a CIT officer, as soon as possible."
Moore's mother said police had been to Moore's residence before, and they knew of his psychiatric issues, the San Francisco Examiner reported. Police disputed that assertion.
The encounter "didn't have to happen this way if the officers had been trained" to handle individuals with mental health problems, Cleo Moore said.
Police and Adachi's office are also at odds over whether the officers were allowed to view their body camera footage before giving official statements to department investigators. Department rules state: "Following any (1) officer-involved shooting; (2) in-custody death; or (3) criminal matter, any subject officer shall be required to provide an initial statement before he or she reviews any audio or video recording."
Pearlman, of the Public Defender's Office, said the officers were allowed to watch the footage prior to offering an initial statement on the shooting, KQED reported, while Chaplin claimed the "officers involved provided a statement before they viewed the footage."
Persons with mental illness are 16 times more likely to be killed during police encounters than other civilians, according to a study released in December 2015. An investigation by the Washington Post released halfway through 2015 found that 123 of the 461 fatal police shootings that had occurred by that point in the year involved mentally or emotionally unstable individuals.
You can share this story on social media: