Mentally ill 16 times more likely to be killed by cops – study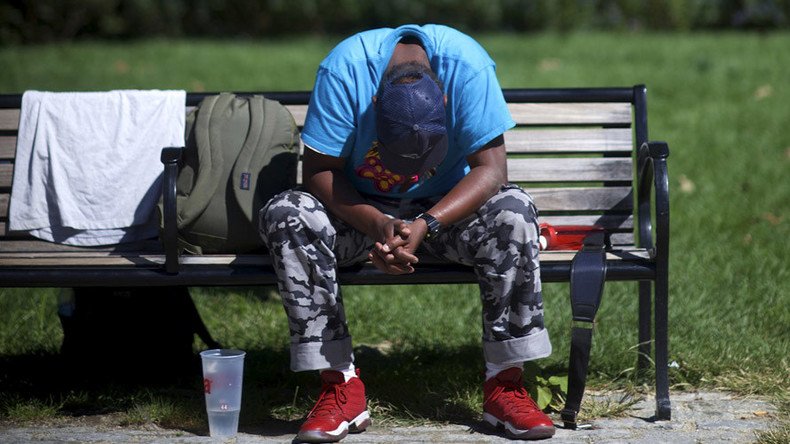 As officer-involved shootings continue to dominate the headlines, a new report found that those with mental illness are 16 times more likely to be killed in encounters with law enforcement than other civilians.
Conducted by the Treatment Advocacy Center, a non-profit committed to removing barriers to timely and effective treatment for severe mental illness (SMI), the report estimated that 7.9 million Americans suffer from SMI that impairs their thinking. Worryingly, half of the population (about 4 million people) do not receive treatment for their condition, a result of various institutional and policy failures.
This untreated population is increasingly likely to find itself involved in deadly encounters with police. Those with untreated illness comprise 25 percent of all fatal police encounters, TAC found. "At this rate, the risk of being killed during a police incident is 16 times greater for individuals with untreated mental illness than for other civilians approached or stopped by officers," the report stated.
Additionally, those with untreated SMI make up 20 percent of all people in jail and prison, while accounting for about 10-20 percent of all law enforcement response calls in general.
"It should horrify but not surprise us that people with untreated mental illness are overrepresented in deadly encounters with law enforcement," said John Snook, TAC executive director and a co-author of the study, in a statement. "Individuals with untreated mental illness are vastly overrepresented in every corner of the criminal justice system. Until we reform the public policies that have abandoned them there, these tragic outcomes will continue."
The report acknowledged that hard statistics are difficult to come by since the government does not provide reliable data on officer-involved shootings. Instead, TAC used its own database as well as analysis by The Washington Post and the Guardian to generate its findings.
When government data is available – and this was only obtained from one US city and "several other western countries" – the results were worse: As many as half of fatal police encounters involve someone with SMI.
A primary reason why people with SMI are involved in so many police encounters is what TAC referred to as "deinstitutionalization," the process by which public psychiatric hospitals and other treatment services were shuttered without seeing a community alternative take its place. This trend has occurred over roughly 50 years, leaving an increasing number of ill patients moving through cycles of homelessness, emergency rooms and the criminal justice system.
"By dismantling the mental illness treatment system, we have turned mental health crisis from a medical issue into a police matter," Snook said. "This is patently unfair, illogical and is proving harmful both to the individual in desperate need of care and the officer who is forced to respond."
To begin addressing this issue, TAC recommended wider implementation of de-escalation tactics by police. It also called on policymakers to "restore the mental health system so that individuals with severe mental illness are not left to deteriorate until their actions provoke a police response." This includes adding more hospital beds for psychiatric treatment and also allowing for authorities to seek court orders to treat high-risk patients that are unwilling or unable to get their own help.
Additionally, the TAC called on lawmakers to fund "reliable federal tracking" of all deadly force incidents by police, regardless of whether they were ultimately lethal, and to make sure that the role of mental illness is highlighted when applicable.
This week, the FBI announced it would revamp the way it tracks fatal police shootings. This includes releasing details about all incidents that end in severe injury or death. However, Snook of the TAC said serious gaps will remain if the Bureau doesn't include data on the mentally ill.
"Unless the overhaul includes collecting mental health data, the role of mental illness will continue to remain concealed from the public and lawmakers," he said, "and the most pragmatic and immediate approach to reducing fatal law enforcement encounters – treating the untreated – will remain overlooked."
You can share this story on social media: