Trump: Bill Clinton 'doesn't know much,' ran failed campaign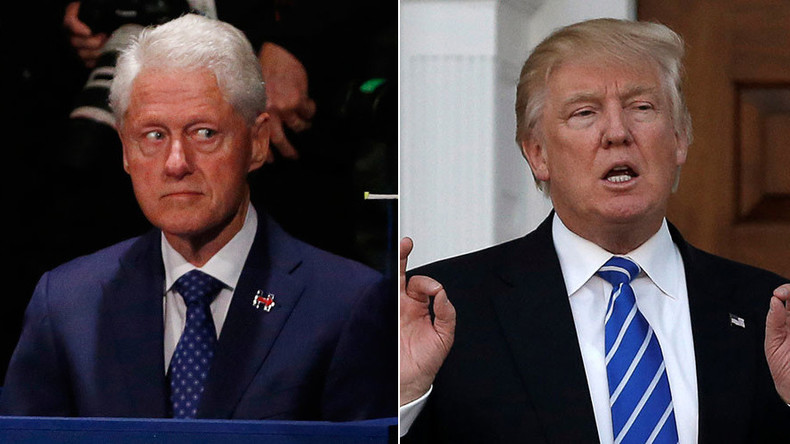 President-elect Donald Trump fired a couple of tweets at Bill Clinton, after the former president accused him of ignorance and relying on "angry white men" to win the election. Trump needled Clinton about losing the swing states despite "an unlimited budget."
Clinton had made the comments to a local newspaper on December 10, but they were reported nationally on Monday as the former president cast a ballot for his wife as an elector in the state of New York.
Trump "doesn't know much," but "one thing he does know is how to get angry, white men to vote for him," Clinton had told the Bedford and Pound Ridge Record-Review. He also said that FBI Director James Comey and Russian President Vladimir Putin personally cost Hillary Clinton the election, echoing the sentiments expressed by the former Democratic candidate last Thursday at a donor event in Manhattan.
READ MORE: Clinton blames FBI director & Russia for her defeat

The president-elect responded by correcting Clinton on who called whom after the election, and taking a dig at the Clintons for failing to inspire voters in swing states, even with "an unlimited budget."
Bill Clinton stated that I called him after the election. Wrong, he called me (with a very nice congratulations). He "doesn't know much" ...

— Donald J. Trump (@realDonaldTrump) December 20, 2016
especially how to get people, even with an unlimited budget, out to vote in the vital swing states ( and more). They focused on wrong states

— Donald J. Trump (@realDonaldTrump) December 20, 2016
President Clinton responded later on Tuesday, saying the "one thing" he could agree with Trump on was who called whom.
Trump sealed his triumph on Monday, winning 304 Electoral College votes over Hillary Clinton's 227. Efforts by the Democrats to have the electors change their votes backfired: Trump lost two electors, both in Texas, while Clinton lost five – four in Washington and one in Hawaii. Three more electors – one against Trump in Colorado and two against Clinton in Maine and Minnesota – had their votes invalidated.