Russians, FBI, 'angry white men' to blame for Hillary's loss – Bill Clinton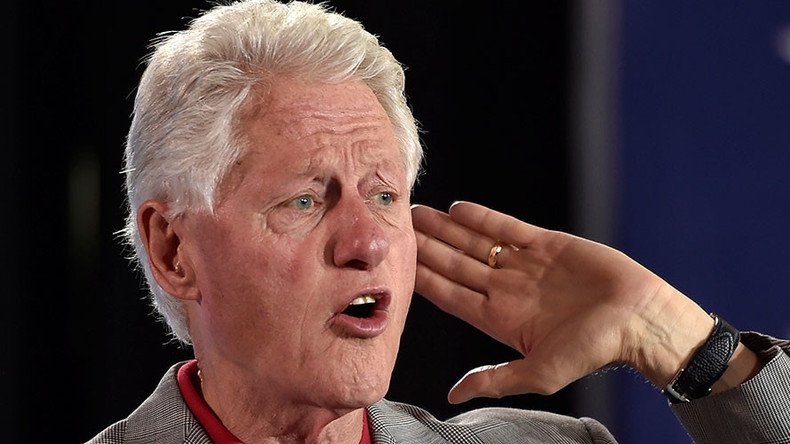 Former president Bill Clinton voted for his wife as a New York elector, exactly 18 years after being impeached in the House. He defended Hillary Clinton's campaign and blamed Russia, the FBI and "angry white men" for Donald Trump's victory.
"I've never cast a vote I was prouder of," Clinton told reporters in Albany, New York, after casting his ballot as a state elector on Monday. Electors met at statehouses across the US to formally validate the result of the November 8 presidential election, in which Trump defeated Hillary Clinton by 74 electoral votes.
Monday was also the 18th anniversary of Bill Clinton's 1998 impeachment in the House of Representatives, on charges of perjury and obstruction of justice, following a sex scandal involving White House intern Monica Lewinsky. However, he was acquitted in the Senate in February 1999.
READ MORE: Protests underway as the Electoral College members vote

Speaking to reporters, the former president repeated his wife's claim that she lost because of "Russian hackers" and the renewed FBI investigation into her use of a private email server while serving as secretary of state.
On Monday, national media also got wind of an interview that the former president gave to The Record-Review, a weekly local newspaper serving the towns of Bedford and Pound Ridge, near the Clintons' home in Chappaqua, New York.
Trump "doesn't know much," but "one thing he does know is how to get angry, white men to vote for him," Clinton told the reporter during a question-and-answer session at a small bookstore in Pleasantville, New York, on December 10. The remarks were printed in the newspaper's December 16 edition.
FBI Director James Comey "cost [Hillary] the election" by announcing the FBI was renewing the email investigation on October 28, the former president said, adding that one would "need to have a single-digit IQ not to recognize what was going on" regarding allegations of Russian hacking. The Clinton campaign and the Democratic National Committee have said since June that Russia had been behind the publication of internal DNC memos and the personal emails of Clinton campaign chair John Podesta.
The former president also dismissed Trump's claims that he earned a mandate in a historic landslide.
"I got something like 370 electoral votes," Clinton said, recalling his 1992 total. "That was a landslide."
Although Clinton's name trended on Twitter as a result of the combination of circumstances, some of the responses were far from complimentary.
You can share this story on social media: