Protests underway as the Electoral College members vote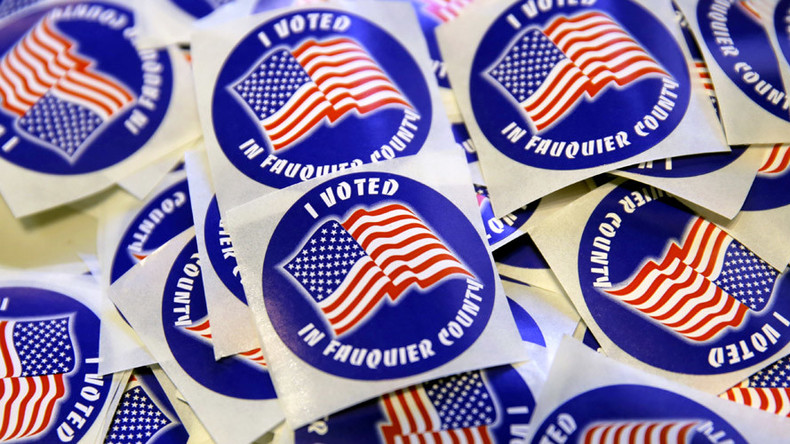 Protests are underway at capital buildings across the US as Electoral College members vote to elect Donald Trump as the 45th US president.
Overall, 538 electors are gathering in state capitols nationwide to vote for the president. There is no law that requires electors to vote according to the results in their states. However, 29 states prohibit "faithless" voting.
Electors in several states claimed beforehand that they may change their vote.
More than 50 people protested outside Connecticut State Capitol to voice concerns about the impending Electoral College vote.
The state's seven electors are expected to cast their vote for Hillary Clinton, winner of the statewide election for president.
Over 30 rallied in Minnesota's state capitol chanting "Not my president."
Over 100 people turned out at the Texas state capitol in Austin.
And in Florida's state capitol, Tallahassee.
Over 100 protesters turned out in Washington state, occupying the steps of the capitol with signs reading "Honor the 2.8 million voters," "Nyet Trump," "Electoral College Vote Your Conscience," and "Trump is an existential threat."
And occupied the state house.
Meanwhile, electors in states that pledged to vote for Trump are casting their votes accordingly.
In North Carolina, Trump electors sang "God Bless America" before their vote at the state capitol.
In Oklahoma, seven Republican electors are formally selecting Donald Trump as the country's next president, and Mike Pence as vice-president.
AP reported that they surveyed all seven electors and found no dissenters to voting in the president-elect, but they did acknowledge they "had been contacted numerous times by people encouraging them to change their vote."
In Arizona, the GOP state party chair, Robert Graham told Fox and Friends that he had received intimidating several emails urging him not to vote for Trump and stating they knew where lived. He added he had been trailed by different people on the highway for two days, and who took pictures of him with their cell phones. He had also seen people outside his house.
Protesters gathered outside the state capital in Harrisburg, Pennsylvania, a state won by Trump. The crowed grew to over 200, according to AP.
Trump's opponents stepped up a campaign calling for electors to not vote along party lines and to stage protests outside state capitol buildings where the votes are due to be cast.
Currently, 306 electors are pledged to Donald Trump, and 232 are pledged to Democratic presidential candidate Hillary Clinton.
In an interesting twist, Maine Democratic Electoral College member David Bright said he was going to vote differently.


Protests in Richmond, Virginia.
Outside the Massachusetts statehouse
Protesters packed themselves in Utah's state capitol building in Salt Lake City.
Voters occupied the room where the vote was taking place in Wisconsin, the one state which conducted a recount requested by the Green Party candidate, Jill Stein. The recount didn't change the outcome of the election.
Voters visibly upset the state's electoral college members voted as expected for Trump yelled out "Shame! Shame! Shame." One voter yelled out "You sold out our country. Everyone one of you is pathetic. You don't deserve to be in America." As a guard approaches she continues to yell "This is my America!" To the guard directly "Take me out if you must. You have sold us out. Listen to your hearts."
Electors will be casting votes for president and vice president in their respective state capitols, starting at 9am, though the votes are not officially counted by Congress until January 6.
Some electors in states that voted for Trump have suggested they may take an almost unprecedented stand and vote against the president-elect.
RESULTS
4:46 pm
Donald Trump, 259
Hillary Clinton, 166
Other, 4
New Jersey's 14 electors formally selected Clinton for president on Monday, bringing her total to 166 — still behind Trump and the number required to become president.
Trump's Electoral College total stands at 259, just shy of the 270 he needs to formally win the White House.
4:00 pm (EST)
Donald Trump, 245
Hillary Clinton, 128
Other, 4
Four members of the Electoral College in Washington state cast their votes for a candidate other than Clinton, the statewide popular vote winner.
It's the first time in four decades the state's electors have broken from the popular vote for president.
3:21 pm
Donald Trump, 240
Hillary Clinton, 120
With votes in from Arizona and Missouri
The one vote for Bernie Sanders from Maine electorate David Bright has been ruled improper, and Bright has switched his vote to Clinton.
2:42 pm
Donald Trump, 215
Hillary Clinton, 96
Bernie Sanders, 1
Electors in Michigan and Florida have cast their combined 45 votes for Trump, making his his Electoral College total jump closer to the amount required to formally win the presidency.
2:00 pm
Donald Trump 166
Hillary Clinton 96
Bernie Sanders 1
North Dakota, South Dakota and Utah have pushed Trump closer to the 270 votes required to win the presidency.
The states' electors gave Trump 166 electoral votes to Clinton's 96 as protests simmered around the country.
Trump is poised to win 306 of the 538 electoral votes under the state-by-state distribution of electors used to choose presidents since the 1700's.
1:00 pm
Donald Trump 134
Hillary Clinton 43
Bernie Sanders 1
Electors from Pennsylvania, North Carolina Ohio and Louisiana have given Republican Donald Trump 134 of the 270 electoral votes required to formally win the presidency.
The new total includes 20 votes from Pennsylvania, 18 from Ohio, 15 from North Carolina and eight from Louisiana.
Democrat Hillary Clinton has 43 electoral votes, including 29 from her home state of New York.
Bernie Sanders has one electoral vote from Maine.
A Bernie Sander delegate from Minnesota, Muhammad Abdurrahman, was declared faithless.
and an alternate elector was selected.
Donald Trump has won 68 electoral votes in Monday's tally of the Electoral College so far.
The new total includes all 16 presidential electors in Georgia and eight in Kentucky, as well as electors in South Carolina, Oklahoma, West Virginia, Tennessee, Mississippi and Arkansas.
The latest result comes from Ohio electoral college members who cast their 18 votes for Trump. No surprises.