History made: 'Faithless' Clinton elector votes Native activist Faith Spotted Eagle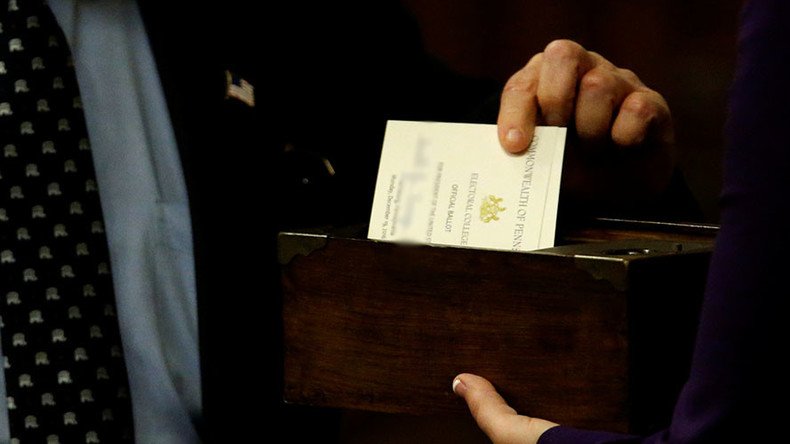 The first Electoral College presidential vote ever for a Native American went to Faith Spotted Eagle. The activist and Dakota Access Pipeline protester won the support of an elector who had previously pledged to support Democratic nominee Hillary Clinton.
After winning Washington state in the November election with 57 percent of the vote, former Secretary of State Clinton lost four of her 12 electors, who turned "faithless." Three of the faithless delegates cast their vote for another former secretary of state and retired General Colin Powell, and one cast their vote for Faith Spotted Eagle, a Native American activist, environmentalist, and Dakota Access Pipeline "water protector."
This makes Faith Spotted Eagle the first Native American to receive any electoral votes in the history of the Electoral College. Faith Spotted Eagle is a 65-year-old Sioux elder who holds a seat on the Ihanktonwan Treaty Council and heads the Brave Heart Society, an organization that seeks to "enhance and preserve the Dakota/Nakota/Lakota culture for coming generations."
Their work includes protecting sacred sites, working toward environmental justice, and fighting against sexual abuse and violence.
In the past, Faith Spotted Eagle was a key member of the opposition against major oil pipelines in the US, including the Keystone XL pipeline and the Dakota Access Pipeline.
"These pipelines, fracking and uranium development are polluting the Mni Wiconi – the water of life, the Missouri River and her tributaries," she stated in a 2015 interview with Indian Country Today.
This is a stark contrast to Clinton, who supported the use of fracking and had a pro-Keystone XL pipeline stance that was revealed in the WikiLeaks publication of campaign chair John Podesta's emails.
The electoral vote for Faith Spotted Eagle came from elector Robert Satiacum, a Native American activist, and environmentalist from the Puyallup Nation, who initially supported Senator Bernie Sanders (I-Vermont) as the Democratic nominee.
Long before the election, Satiacum was vocal in his opposition to Clinton. Through his Tacoma-based radio-show "Tribal Talk," he has railed against Clinton for her environmental policies, which he calls "crimes against our mother, this Earth."
"How can I say and do and be who I am and then cast a vote for somebody that's the same as Trump?" Satiacum told Politico a month before the election. "I have to either step down from being this thing I was elected to be or I've got to step down from being myself."
The four faithless electors in Washington face the possibility of a $1,000 penalty. There were several other electors who tried to change their votes, but many of them were turned down by state laws.
Democratic electors in other states attempted to change their vote for Clinton, but they were shot down by state laws. Only one other faithless vote was counted, and it went to Bernie Sanders in Hawaii. That vote was cast by David Mulinix, who said that he would have voted for Clinton if President-elect Donald Trump had not already won the Electoral College by the time that he placed his vote.
Mulinix told the Los Angeles Times that he only decided to cast his vote for Sanders due to the unfair treatment he received from the Democratic National Committee during the election.
"The primaries were not fair. The election was not fair," Mulinix told the times, "They robbed us, and the millennials know it."
You can share this story on social media: