'Are you practicing journalism?' Fox News host sends anti-Trump journalist into meltdown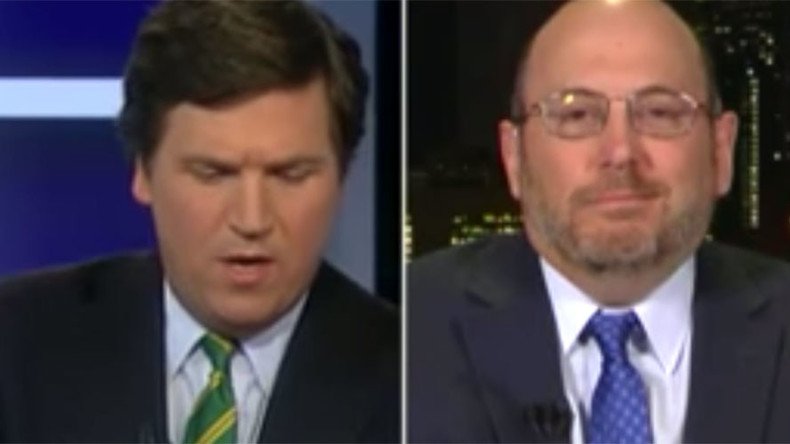 An outspoken Newsweek reporter went on Fox News to discuss his coverage of President-elect Donald Trump. The nine minutes of personal attacks and avoiding answers quickly went viral as the face of 2016 political coverage in America.
Kurt Eichenwald, a senior writer with Newsweek and contributing editor at Vanity Fair, has attracted a lot of attention this election season, from arguing that a Russian news outlet's accidental misattribution of one of his articles to Sidney Blumenthal "proved" collusion between Moscow and WikiLeaks to an equally outlandish claim that Trump had been admitted to a mental hospital in 1990.
On Thursday, Fox News host Tucker Carlson grilled Eichenwald on that claim and others, with the Newsweek writer giving him the runaround.
"Do you believe that you are practicing journalism?" Carlson asked at the outset, quoting some of Eichenwald's tweets. The Newsweek writer claimed they were "out of context," then brandished a binder titled, "Tucker Carlson's Falsehoods."
Carlson then asked about the Trump mental hospital claim, and things went downhill from there.
"Do you see a little irony that on one day, you're criticizing the press for being lazy and inaccurate, and the next day you yourself are being lazy and inaccurate?" the Fox News host asked. Eichenwald kept insisting he wanted to answer the question, but never did.
"Was he in a mental hospital or not in 1990? You allege that he was. Was he or wasn't he? He wasn't, was he?" Carlson insisted.
"Can I finish, Tucker?" Eichenwald replied.
"It's a really simple question. I'm asking you to finish, sir. Answer the question," Carlson said. Instead, Eichenwald kept talking about the "reporting process" and offered no actual answer.
"I think you are humiliating yourself by your unwillingness to answer a simple question," Calrson concluded.
Following the show, Eichenwald launched into a tweetstorm, posting 46 messages on the microblogging platform before claiming to have had a seizure. The tweets were later deleted, though Twitchy archived some of them.
Several of Eichenwald's colleagues were not impressed with his interview, holding him up as an example of the media's problematic behavior – and not just in the 2016 election.
Earlier this month, Eichenwald claimed that the crowd at a Trump rally booed the late John Glenn, the last of the Mercury 7 astronauts and the first American in orbit. He later retracted that claim, saying he was "in error."
Both of Eichenwald's employers, Newsweek and Vanity Fair, have been accused of partisan coverage of the president-elect. In a major embarrassment, Newsweek actually printed and distributed a special "Madam President" printed issue, certain of Clinton's victory in the November presidential election. The 125,000 copies had to be recalled from newsstands after Trump's triumph.
Earlier this week, Trump criticized Vanity Fair over the magazine's review of the restaurant at his New York headquarters, calling its editor "no talent" and describing the magazine's business as "Way down, big trouble, dead!"
You can share this story on social media: