Kerry blames Russia & Syria for Aleppo, warns 'it will not end the war'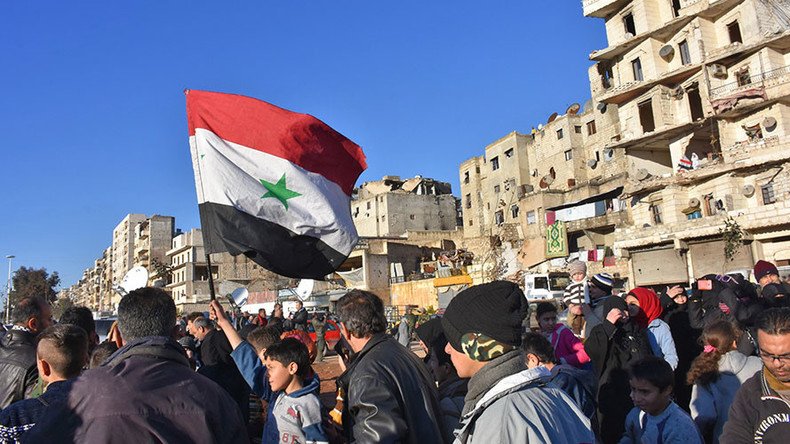 Channeling US displeasure with the Syrian government regaining control of Aleppo from militants, Secretary of State John Kerry called for a truce and placed much of the responsibility on Russia, while staying silent about US influence with Syrian rebels.
Speaking to reporters at the State Department on Thursday, Kerry accused the Syrian government of "continued, relentless and inexcusable attacks… directed at civilian population of Aleppo, including women, children, humanitarian workers and medical staff."
"What we want in Aleppo right now… is an immediate and verifiable, durable cessation of hostilities," he said. "We want safe passage, corridors of evacuation… for both civilians and fighters who choose to evacuate the city."
Kerry was seemingly unaware that hostilities in Aleppo had already ceased, as the last of the militants accepted the surrender terms offered by the Syrian Army and agreed to be evacuated.
While noting that a convoy of 1,000 people is already on its way to Turkey, Kerry brought up "reports that a convoy with injured people was fired upon by the regime." Residents of Aleppo, however, told RT's Lizzie Phelan that such reports appeared before any vehicles left the militant-controlled neighborhood, and that they heard no gunfire whatsoever.
The Secretary of State also cited rumors that "Syrian men ages 18-40 have been conscripted… or have gone missing," which he termed "despicable and contrary to the laws of war and to basic human decency."
"What has happened in Aleppo already is unconscionable," Kerry said, but with tens of thousands of people concentrated in a very small area, the world is watching that it doesn't "turn into another Srebrenica."
After that enclave changed hands during the 1992-95 Bosnian War, thousands of Bosnian Muslim civilians were evacuated by the Bosnian Serb forces, but the West has been accusing exclusively the Serbs of genocide over the killing of thousands of "men and boys".
"If Aleppo falls completely and people are slaughtered in that small area, it would be even harder to bring people around," to a peaceful solution, Kerry said. "The fall of Aleppo, should it happen, would not end the war."
Kerry placed the responsibility for the bloodshed in Syria solely on the Syrian government – or "Assad regime," in his words – and its Russian ally. At the NATO ministerial summit on December 6, however, he admitted the "opposition" militants backed by the US, Turkey and Gulf Arab states "would not buy into a ceasefire."
On Saturday, following a meeting with European and Arab foreign ministers in Paris, Kerry likewise admitted that the militants had taken civilian hostages and obstructed humanitarian deliveries – both previously blamed on the Syrian government and Russia.
"It is true that there have been some occasions where certain elements of the opposition have threatened people who were going to leave [Aleppo], and in some cases prevented humanitarian assistance from being delivered," he said.
On Wednesday, Kerry said the US was demanding of Damascus and Moscow to enable full access to humanitarian aid "throughout Syria."
Washington has maintained since 2012 that Syrian President Bashar Assad had "lost all legitimacy" to rule the country and that any settlement of the conflict needs to see him removed from power. While not using the well-worn phrase "Assad must go" on Thursday, Kerry did call for "a Syrian-led political process… resulting in a new and more representative government."
You can share this story on social media: